Aptos is a Layer 1 Proof-of-Stake blockchain that has been designed to employ a novel smart contract system. This system will allow for the development of decentralized applications that are secure, scalable, and easy to use. Aptos plans to be one of the most user-friendly blockchains in existence, making it perfect for businesses and individuals who want to take advantage of the benefits that blockchain technology has to offer. With its unique features, Aptos is sure to become a major player in the world of cryptocurrency.
Considering the ecosystem of Aptos, consist of 4 decentralized protocols as per the data available on CoinMarketCap. It includes Mojito Markets which is a decentralized exchange, Ditto Finance which is a liquid staking protocol, Aptoge which is a community-driven meme token, and Pontem which is a wallet infrastructure provider.
Aptos (APT) Token Performance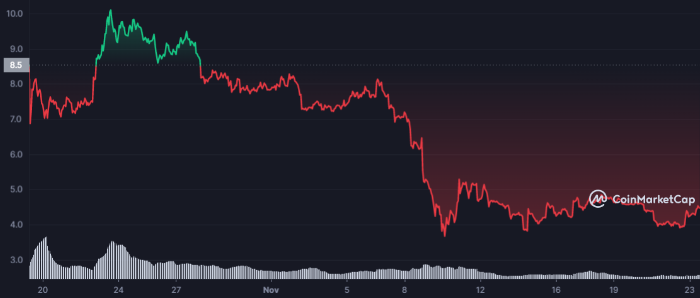 The APT token was listed around the price level of $8.50 at the end of October. Since then, APT was able to register a new all-time high of $10.25 on Oct 23, 2022. However, thereafter, the coin faced significant selling pressure resulting in a downfall of nearly 56%. This indicates that despite being one of the most prominent recently launched projects of this year, Aptos faced the wrath of market conditions causing severe downfall. The CMP of APT is around $4.46 with a market cap of $578 million and volume traded of $157 million in the past 24 hours.  
Aptos (APT) Technical Analysis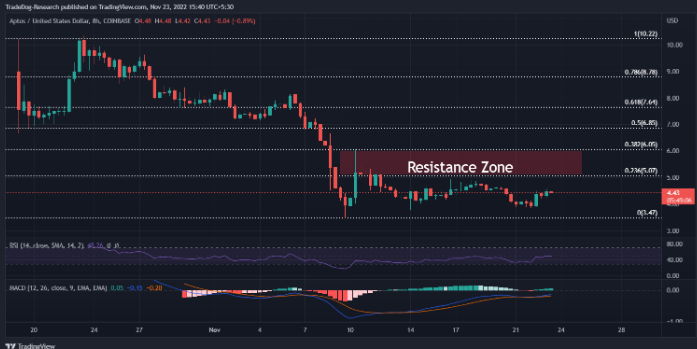 The technical chart of the Aptos (APT) token reflects the initial buying volume gathered which led to its new all-time high. However, since then, the coin has faced significant selling sentiment at regular intervals which eventually led to a downfall below the 0.236 FIB level. Since then, the price level was not able to have a positive breakout above the Fibonacci level. 
Considering the technical indicators, it could be noticed the RSI level had a hard time sustaining above the level of 50 which implies that APT had not received constant buying volume from investors. The same goes for the MACD level which barely spent time above the histogram. However, considering the current trend, green bars have started to formulate on the histogram which could provide Aptos some positive momentum in the near term.
Overall, the price level needs to have a positive breakout above the resistance levels of $5.00 and $6.00. On the contrary, if it faces further downfall, support levels can be placed at $4.00 and $3.00.