Back in the days when bitcoin was just a fancy idea, $1 could fetch early responders as high as 1,630 BTC (12/17/2009) and as low as 737.82 BTC (11/13/2009). Don't try to put the value in perspective or you might get mild cardiac arrests. BTC ruled the digital asset economy with only a handful of people knowing about it. Things got kicked up and BTC started gaining traction amid developers and tech buffs. What was available in dimes before has now become institutional money that even the naysayers drool for.
Here's a visualization of how dramatic Bitcoin's price has been over the years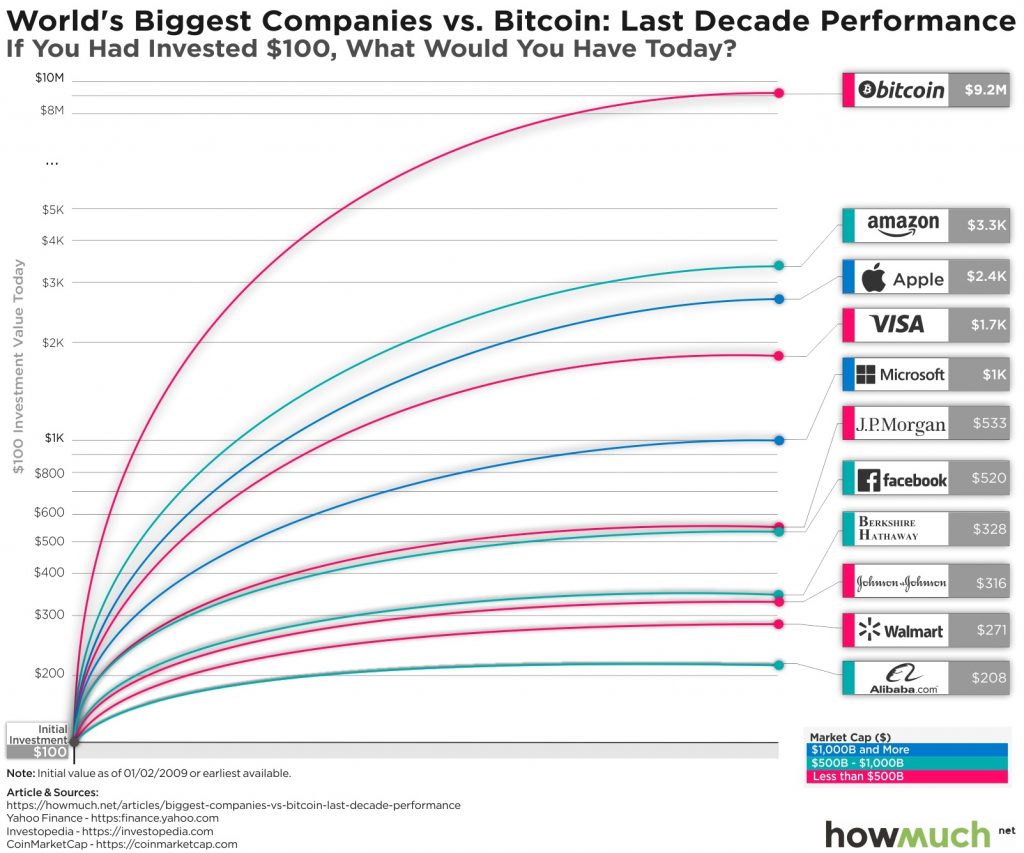 Bitcoin peaked at an all-time high of $28,422 on Binance USD on Dec 27, 2020. This enormous bull run is known to be caused by growing institutional interest and firms such as Microstrategy, Grayscale, Square and more adding more bitcoin to their portfolios. As new users realize they are missing out, we may see a huge surge in BTC's price in foreseeable future.
Bitcoin has consistently beaten the major market indices such as Dow Jones, S&P 500, etc. by being steadfast through the test of time. Dow Jones, for instance, reached 30,000 for the first time in 2020 on Nov 24 and gave average returns of 11.57% from 2013 to 2020 while Bitcoin's average returns were a massive 267.01% in the same period. An 11% return came from the prominent stocks of the top 30 companies in the US, and Bitcoin alone decimated the figures with ease let alone other large-cap digital assets.
See the chart below to get a data-driven perspective on the returns of both. (2013- Dec 2020)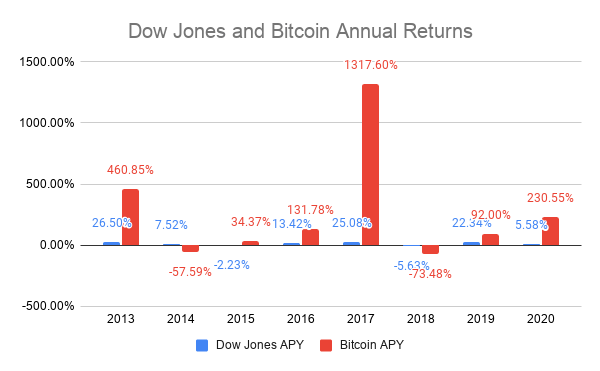 The S&P is one of the largest stock markets index that tracks and measures the stock performance of 500 publicly traded, large-cap U.S companies. Between 2000 and Dec 2020, the average annualized return of the S&P 500 Index was just about 12.98%.
Let us see how the top 500 stocks in the US performed against bitcoin. (2013- Dec 2020)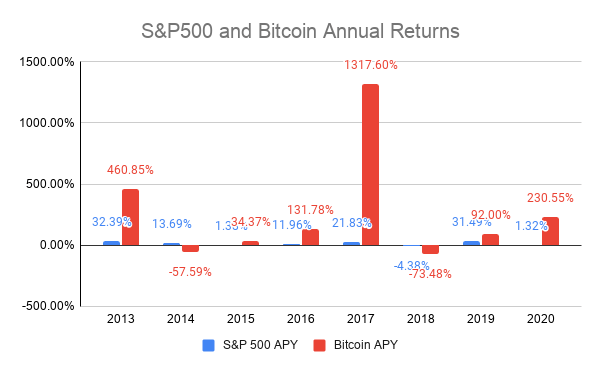 Bitcoin stands tall here yet again. It's as if bitcoin has this ring of authenticity to it that sparks interest in all types of investors globally. In this earlier article, we mentioned the subtle correlation between the traditional investment space and crypto as exchanges registered a huge flock of incoming users for trading and investment.
The Covid pandemic has induced fear and panic in the traditional investor, Covid's lethal propensity has made it unclear as to what the next year would bring. Institutions and corporations are aware of the fact that the world's economy is prone to taking consistent hits whenever an instance of a trade war–like that in-between Us and China– appears or when monetary policies are not overseen, all of which contribute to wealth deterioration across asset-classes. Factors such as recession, International conflicts, and unemployment so far haven't been able to disrupt the digital asset class ecosystem to the immense degree they affect the global economy.
Drawing a conclusion on this hotbed of investment, TradeDog is now bullish on crypto more than ever.
As opposed to the claims of BTC reaching as high as $300k or even $1 million is quite absurd. The traditional market exceeds $8 trillion and for crypto to reach these levels, it would take an allocation of at least half of this value to the crypto space which is not only challenging but complex too. We do believe that blockchain technology has made it easier to protect data, realise newer horizons, erase intermediaries, offer better security, improve traceability and much more. The emergence of valuable concepts in the crypto ecosystem especially DeFi will surely take the industry to new heights.
Digital assets have proved that they are not based on just fancy coding, it is a macrocosm of vital protocols working to build something that traditional space has been missing out on all along.
TradeDog
If the average interested person heeds key metrics and investing parameters, they can too make a steady income out of trading altcoins just like hundreds of thousands of users are doing. Do visit our Project Dashboard to make sense of how a certain crypto asset performs in a given market, and what parameters can make it the next valued investment.
Sign up for our Newsletter to get weekly Bitcoin technical analysis among other vital stuff.
Our research reports are based on key metrics such as exchange data, technical indicators, price actions, on-chain analysis and options chain analysis. With all this research, one can enter the crypto ecosystem with industry-level insights and turn their hobby into investment and trading expertise.
Sign up on the Research Portal to start learning about the markets like never before.
Care to learn more?
Follow our Twitter to get personalized updates as the trends blend into news.
Hit Instagram to see what's happening in the crypto-social world
Sign up on the website and enter our 10k strong family of users, crypto enthusiasts, and investors.