SUI Blockchain is a layer 1 blockchain platform that caters to decentralized applications (DApps) and smart contracts. By utilizing a Delegated Proof-of-Stake (DPoS) consensus mechanism and an object-centric data model, SUI strives to enhance transaction throughput while reducing network congestion through its cutting-edge technology.
SUI Blockchain aims to provide a reliable and efficient solution for decentralized applications and the broader blockchain ecosystem. SUI's mainnet went live recently, and it has taken the crypto world by storm. Let's understand more about its launch on mainnet in today's TD Daily!
SUI Blockchain ~ BASICS 💡
SUI is a new competitor in the league of L1s like Ethereum, Solana, and Avalanche that lead the ecosystem. The new competitor is considered worthy as it deploys a new kind of smart contract-based network that aims to take a different approach to processing transactions in the blockchain data model system.
Developed by Mysten Labs, the SUI Blockchain aims to provide a high-performance and user-friendly environment for developers and users to build and use DApps. In addition, SUI Blockchain supports cross-chain interoperability, allowing for the exchange of assets and data between different blockchain networks. Due to high throughput & a unique consensus mechanism, the network can process up to 300K transactions (p2p transfers & NFT mass mints) per second.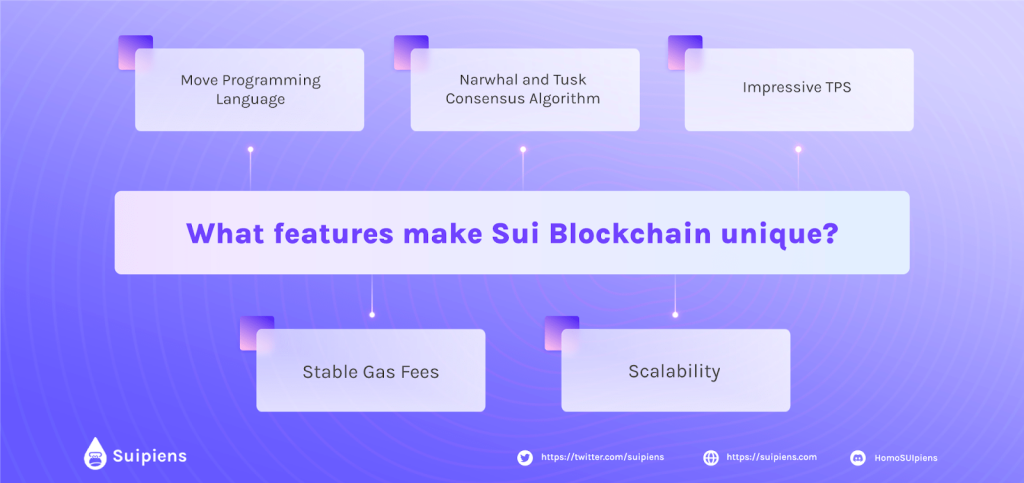 Sui Move, Sui's programming language, was designed with safety guarantees to prevent typical hacks/exploits and to provide a better development experience. The Sui tech stack solves three key blockchain issues: scalability, secure programming, and mainstream acceptance. Sui's unique object-centric data model and consensus architecture enable the network to scale indefinitely. Alongside, the network also intends to include a function that will allow applications to subsidize and abstract away consumer petrol expenses, resulting in a more seamless user experience.
SUI Launch 🔓
The much anticipated SUI went live on the mainnet on May 03, following the announcement by the SUI foundation revealing that the users & builders would be able to access the network without any restrictions & complex infrastructure.
Following the launch, the token got listed on tier 1 exchanges, including Binance, Kucoin, Kraken, OKX, and others. Anticipating the successful launch of SUI on mainnet, Greg Siorounis (MD of Sui Foundation) mentioned –
"Today is a monumental milestone for the entire Sui community and the digital asset ecosystem as a whole. For the first time, builders and users have access to a Layer 1 blockchain that allows developers to build freely, without being inhibited by complex infrastructure, and unlocks endless possibilities for users across the world."
Upon its release, the newly-launched token enjoyed a substantial surge, resulting in a trading volume of over $1 billion within the first 24 hours on Binance. As a result, the token quickly climbed to the top 100 list of coins listed on CoinMarketCap, currently holding the 67th position, with a circulating market capitalization of $671.15 million. Although the token's value remains 1000% higher than its original launch price of $0.10, it has since experienced a significant decline from its all-time high of $4.5 to its present value of $1.27 (as of writing), marking a decrease of more than 70% from its peak value, disappointing investors.
What's Next? 👀
The SUI network is built by ex-META employees who have worked on Diem/Libra project. The technology is considered very robust and efficient and aims to host multiple dapps on its platform. Backed by A16z with a whopping $36 Mn funding and raising another huge chunk of $300 Mn on Sept. 22', the Sui network is focusing on its development and making the platform more supportive and less complex for the Dapps. However, the chain being new has not really attracted significant adoption, and it remains unanswered to see how far it can go in the continued race of L1s to de-throne Ethereum ~ the flagbearer.