From digital assets proving their mettle to the seamless world of the blockchain ecosystem, the cryptocurrency domain has seen worthwhile development and an unceasing surge in value and adoption. Blockchain, the game-changing distributed technology of the decade has had a great impact on how the world views business, technology and finance. One of the most striking aspects of the blockchain is the inception of dApps or 'Decentralized applications which are just as decentralized.
A Dapp is a peer-to-peer network which runs independently of a centralized party and cannot be controlled or taken down by any single entity. Unlike what we see in traditional apps that mandate a centralized party, dApps do not have any middlemen for connecting users and developers. Since building a dApp does not require any permission, they are ever-evolving and self-sustaining as they permit the stakeholders to invest in their development and scaling processes.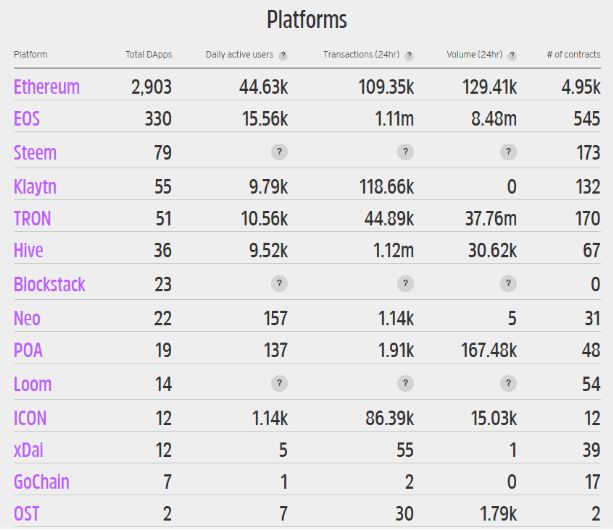 Ethereum is the major host for dApps with over 2000 apps currently running on its blockchain. From gaming to token swaps to decentralized exchanges, all dApps have some advantages and disadvantages to Ethereum. This includes transaction speed, daily user count, throughput, scalability and fees. There are currently over 3500 decentralized applications distributed across gaming, gambling, social, finance, wallet, marketplaces, storage, health, energy, insurance and more. These dApps together constitute 91.5k daily users, 2.59 million transactions and a volume of $68 mn in 24 hours.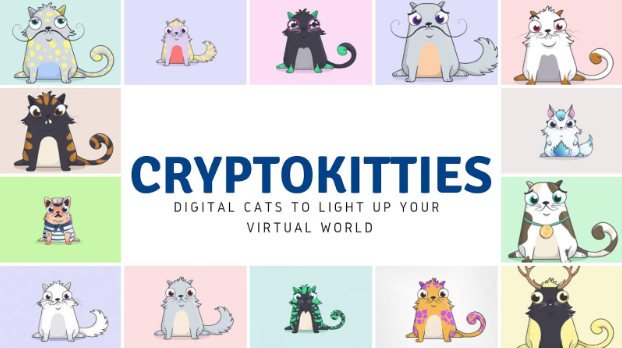 Ethereum is the most sought platform for developing dApps. With over 2000 dApps identified across gaming, token swaps and decentralized exchanges, ethereum hosts a majority of apps that are incredibly popular among the users. To drive the point home, let's look at cryptokitties, an Etheruem based game that allows users to buy, pet, breed, trade and sell digital cats with different unique attributes. The game has scored the most expensive in-app purchase of a crypto kitty named dragon for a price of $170,000.
DeFi or Decentralized Finance is a relatively newer concept of the peer-to-peer concept of decentralized lending. Numerous DeFi dApps such as Compound, AAVE, Synthetix, MakerDao, and more have ever-increasing users, significant trade volumes, and record-setting percentage returns. Increased volumes in DeFi-specific dApps are proving that it will be the new financial gateway for decentralized lending. Here are the most popular dApps for your reference.
Another contender that has surfaced as a credible dApp platform is Matic. Matic Network is a layer-2 blockchain scalability solution that provides secure, scalable, and instant transactions powered by Plasma side chains and a Proof-of-Stake network.
Matic partners with MakerDao- a smart contract platform on Ethereum, USDC- a stablecoin, Coral- a decentralized security protocol, Ripio Credit Network- a peer-to-peer credit network, and GitCoin- an open-source bounty platform. Matic intends to scale the Ethereum blockchain through layer 2 scaling solutions which can also increase its throughput (transactions per second). The platform has many useful decentralized apps of which the most notable ones are Quarters, Plentix, BankIT, CryptoControl, etc.
Matic has also incorporated the Matic Build-n-Earn program to incentive developers with monthly recurring benefits that will enable them to gain a cash source during the app development tenure. This will help them in maintaining pace and fuel sustainable growth. Their intent behind Build-n-earn is to empower developers to develop and earn with Matic and create the best possible version of their application. Developers have the liberty to gain the required exposure and increase user count through Matic's network of strategic partnerships and community while simultaneously earning incentives for their contribution.
The pace at which the decentralized ecosystem is increasing has attracted many developers and users to delve deeper into the seemingly entertaining and endless world of distributed systems. Whether it is playing games, gathering collectibles, making bets, or lending, dApps will be reinforced as a newfound play store for the new age blockchain ecosystem.
Keep track of our blogs to stay updated with the hot topics in the cryptocurrency industry. Things here happen quite fast as though the industry borrowed the inherent volatility of the digital assets.
The dApps present an opportunity for traders and investors to invest in their native tokens. But with a large pool of such investment opportunities, it becomes imperative to do the due-diligence before putting your money at stake. This is where Tradedog can help you.TradeDog helps its users take risk hedged trading or investing in their asset of choice. We strip away the possibility of bad trades through our calculated trading advice so that you may trade stress-free.
Follow our social updates here
Website Telegram Twitter Facebook Pinterest Youtube Instagram