NFTs have evolved as an exceptional use case in the web3 ecosystem as PFPs and collectibles. As the technology paves the way for redefined digital ownership, it has been gaining popularity across several businesses, and major companies have started integrating NFTs in one way or another.
Reddit, a social media platform, has integrated NFTs recently, allowing users to mint/collect and trade NFTs as digital collectibles. The community, in return, has also massively supported this implementation, due to which the platform recently onboarded 10 Mn+ users to web3 as NFT collectors. This blog will help you understand how Reddit has led the NFT adoption and revolutionized the web3 space.
What is Reddit
Reddit is a popular social media platform used as a forum to talk about everything from politics and movies to cryptocurrency and NFTs. With more than 400 million active users each month, you can be sure it must be outstanding! Users can debate, vote on, and share material on Reddit. An upvote or downvote indicates a vote's popularity on the platform. Votes have an impact on popularity, which affects search results.
To use, users must set up a profile and username to allow others to find them when they post or remark in the community. You can create a subreddit if a user wishes to develop a specific conversation topic. When that's done, other users, also known as Redditors, who are curious about the subject of the debate can join the subreddit.
How Reddit has become a community platform for web3 audience
Having teamed up with over 90 artists, the Reddit NFT marketplace hosts a variety of artworks that are attracting web2 and web3 audiences to its platform. To give users one-of-a-kind digital assets, the platform created Avatars (also known as Reddit NFTs) that offer them exclusive features. The Avatars owned by Reddit users can be uploaded as their PFPs, traded on Blockchain, and sold to other people. All the avatars are unique and can be customized by equipping several unique gear pieces.
The Reddit NFT market runs as a part of the Reddit social network. The Collectible Avatars Shop section of Reddit gives users access to the Reddit NFT marketplace. However, before anyone can buy an NFT, they must first register for Reddit Vault, the website's native cryptocurrency wallet. Each Reddit NFT is produced and stored in a digital wallet on the Polygon blockchain.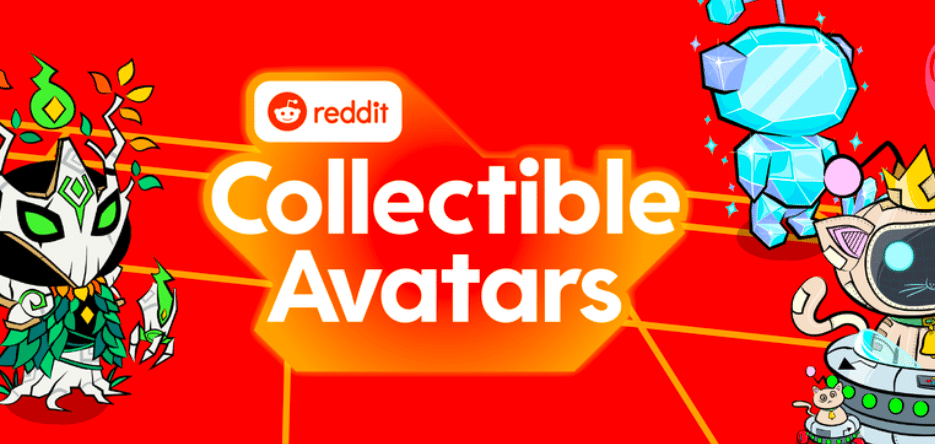 Launch of NFT Avatars and related stats
Released in July 2022, the Reddit NFT collections have taken the NFT space by storm as the platform nears the mark of 10 mn holders with over $32 Mn in sales. The most expensive NFT, a Reddit Avatar, was sold for $50K.
Since its launch, the number of holders of Reddit NFTs has steadily upsurged. In July 2022, Reddit unveiled its blockchain-based collectible avatars, dubbed Reddit Avatars. Reddit Avatars first had to deal with a lot of skepticism from the community, but the second-generation collection succeeded. The collection of 40,000 NFTs was available through secondary marketplaces only and sold out in less than 24 hours.
In May beginning, the collection accounted for approximately 8.2 Mn holders, which increased steadily. An astonishing 9,900,465 Reddit accounts currently hold Reddit NFTs, with the collectibles having a market value of more than $38 million, according to the available on-chain data.
The launch of the Reddit Cup 2022 collectible avatars caused a spike in collectible avatar volume on November 22′, even though interest in Reddit collectible avatars had declined by last October after reaching 2.5 million wallets. Since then, collectible avatars have grown in popularity due to cunning marketing strategies, such as avoiding the term "NFT" to appeal to anti-NFT Redditors, resulting in record-high numbers today.
Most of this success can be due to its bestselling collections, including poieeeyee, The Senses, and Foustlings, each of which has exceeded $1 million in sales. Among the 9 Mn holders, 7.7 Mn holders are single collective avatar holders and do not hold multiple wallet addresses.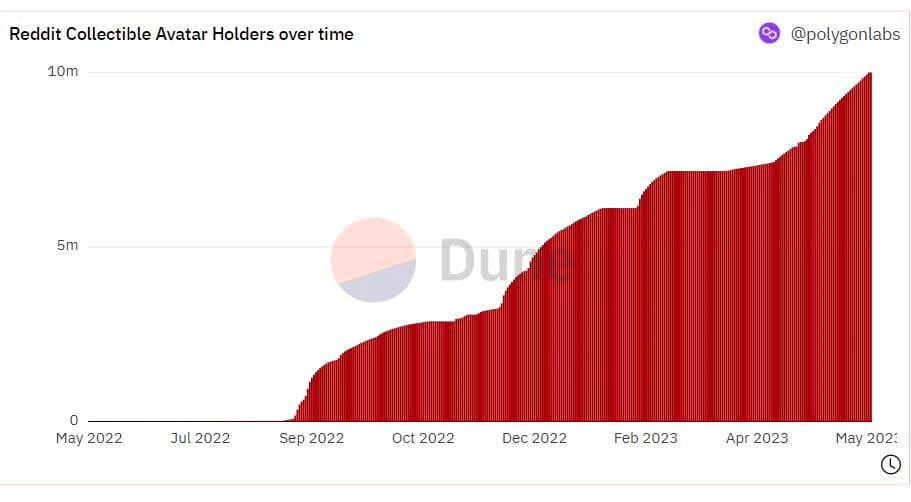 According to Reddit executives, it was revealed that Reddit had surpassed the OpenSea NFT marketplace in terms of active wallets. It was claimed that the Reddit Vault was used to build crypto wallets by more than 3 million Reddit users. About 2.5 million brand-new wallets generated by Reddit Vault were created by users to buy the Reddit NFT avatars, whereas OpenSea only has 2.3 million active wallets.
Recently, the co-founder of Polygon in an AMA stated that "Reddit is perhaps the only well-known Big Tech company which has cracked the NFT code, and they can drive a lot of engagement with Reddit NFTs." Continuing the thought, he also mentioned that having a launchpad for the artists to launch their collections and a secondary marketplace to trade those NFTs could take Reddit NFTs to new highs.
Reddit in Web3: Comparison with other social media platforms
Reddit stands out as a superior social media platform in the Web3 space compared to competitors attempting to enter this realm. With over 1 billion monthly users, Reddit has demonstrated its influence and potential impact in adopting Web3 technology.
One significant example of Reddit's foray into the Web3 space is its release of a million-dollar avatar collection as non-fungible tokens (NFTs). Additionally, Reddit's approach cleverly avoided referring to the avatars as NFTs, simplifying the user experience and widening adoption. While various social media platforms are exploring Web3, Reddit's extensive user base and successful implementation of NFTs position it as a frontrunner in embracing the potential of Web3.
Meanwhile, other platforms like Meta (Facebook, Instagram) and Twitter have also made strides in Web3 integration, allowing Instagram creators to design and sell their NFTs and introducing NFT Tweet Tiles for buying, selling, and displaying NFTs.
Way forward for Reddit in web3
Reddit has positioned itself as a trailblazer in adopting NFTs and has demonstrated its potential to pave the way for the web3 industry. By integrating NFTs into its platform and launching the Reddit collectible NFTs, known as Avatars, Reddit has attracted a massive user base and facilitated the onboarding of millions of users to web3 as NFT collectors. The success of Reddit's NFT marketplace, with over $32 million in sales and a rapidly growing number of holders, showcases the strong demand and interest in digital ownership and collectibles.
With its extensive user community of over 400 million active users each month, Reddit can significantly impact the future of the web3 industry by driving adoption, fostering engagement, and creating new opportunities for creators and businesses. As Reddit continues to innovate and expand its offerings in the web3 space, it is likely to shape the evolution and mainstream acceptance of digital assets, blockchain technology, and decentralized ecosystems.