Binance CEO Changpeng "CZ" Zhao announced on Sunday that his cryptocurrency exchange, Binance is selling its holdings of FTT, the native token of competitor exchange FTX. The decision comes after weeks of criticism aimed at FTX's founder and CEO, Sam Bankman-Fried, for regulatory initiatives he put forth in a blog post that suggested DeFi restrictions. He has since agreed to revise his regulatory stance.
How does Binance have FTT Holdings?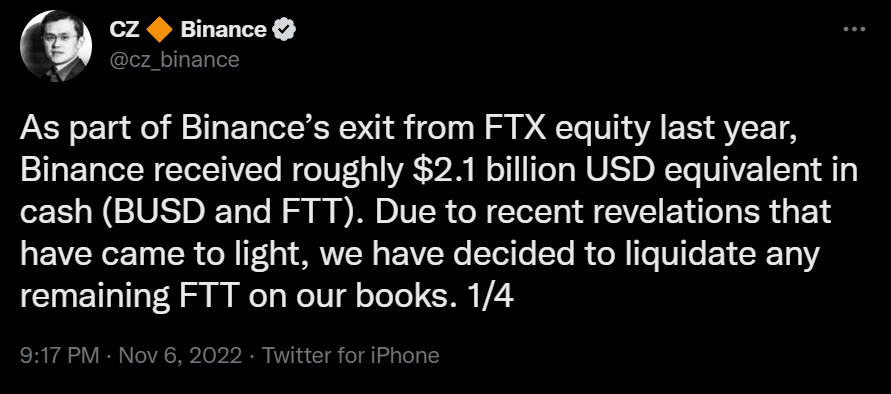 Binanceobtained the funds in FTT token as part of its 2018 exit from an early FTX equity stake in FTX that it had held since 2019. According to Zhao, FTX purchased Binance's stake in the company for $2.1 billion in FTT and BUSD—the stablecoin native to Binance's exchange. Due to market conditions and limited liquidity, CZ expects the liquidation to take several months to complete. He also stated that it will be done in a way that attempts to minimize the market impact on FTT. 
Alameda Research Entrance in the Debate
Alameda Research is a sister company of FTX. It was noted that the financial status of the company is loaded with FTT tokens which led to a public war between Alameda CEO, Caroline Ellison, and CZ, who is eventually a sizable owner of the FTT token. As soon as the liquidation news came out, Ellison fired back on Twitter by saying that Alameda is ready to purchase every FTT token that Binance will sell for $22 each.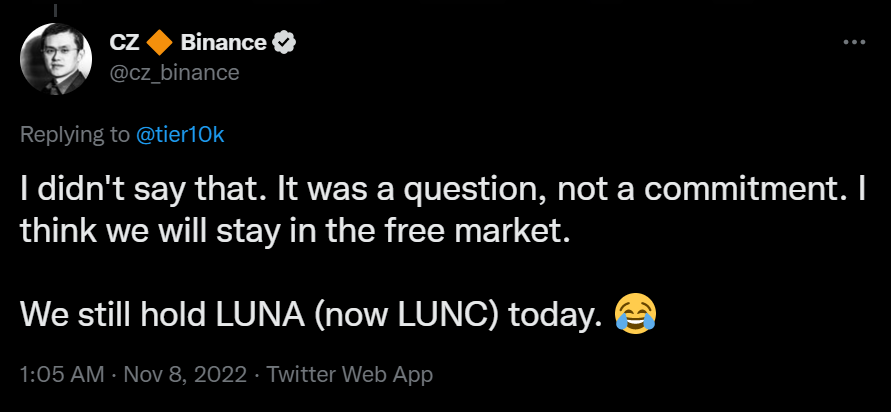 However, CZ is not interested in selling his company's FTX tokens in an OTC deal with Alameda. He mentioned on Twitter that Binance plans to stay free in the market responding to the question on Alameda Research's potential involvement.
Sam Bankman-Fried Denies Insolvency Rumours
FTX CEO denied the insolvency rumors of FTZ today over twitter saying that it's a pure FUD spread by its competitor. His backing comes in the form of coverage over client holdings, not investing in client assets, and GAAP audits with more than $1 billion in cash. At the end of his thread, he mentioned CZ for working together for the ecosystem. However, the whole incident surely had a significant impact on the FTT token as it is down by nearly 30% at the time of writing.