Bitcoin has become an increasingly popular asset since its market debut in 2009, but also one of the most environmentally damaging. Its presence in global energy markets has led to some headlines regarding the currency's climate impact. Unfortunately, these stories are more than just speculation – Bitcoin mining has more than doubled its carbon footprint in the last five years alone. To make matters worse, this increase may be hindering global efforts to address the environmental crisis because it requires burning fossil fuels to mine cryptocurrency and generate rewards.
In response, governments have proposed regulations to limit the power usage associated with crypto mining in certain countries while tech makers look for sustainable solutions at home and abroad. Despite this grim landscape, advocates believe that as newer and greener technologies become available, Bitcoin can be mined responsibly and make a positive contribution to global sustainability projects.
Bitcoin Moving Towards Adoption of Clean Energy
ClimateTech Vice Chair Daniel Batten's recent analysis at ClimateTech has revealed that renewable energy is rapidly becoming the go-to choice for Bitcoin miners. Of the entire Bitcoin (BTC) network, 16.48% is composed of renewable energy sources – a very positive sign for the industry in the renewable energy space.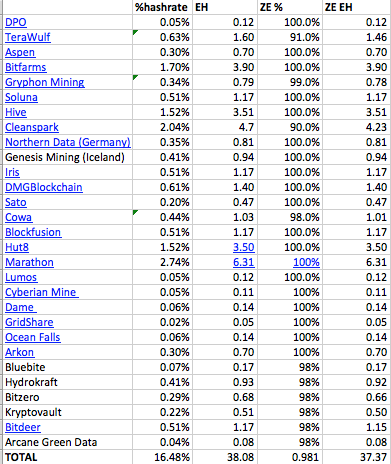 In addition, a whopping 52.2% of the entire BTC network currently operates on renewable sources -for example, hydropower and other renewable resources like solar and wind. This shows that renewable energy use is rapidly increasing within Bitcoin mining, further helping to reduce our dependence on non-renewable sources while simultaneously making crypto-mining businesses less dependent on traditional grids.Increasing Clean Energy Utilization for Bitcoin Mining The utilization of renewable energy in BTC was hanging about around 40% in 2020, however, this ratio reduced to 28.48% in 2021. The mining industry has since been attempting to raise this ratio again.Since the start of 2022, the use of clean energy has increased. After Elon Musk stated that Tesla will accept Bitcoin payments if more than 50% of the network switched to renewable energy sources in May 2022, attention was drawn in particular to this topic.In May 2022, the Bitcoin Mining Council also published a report that asserted that 58.4% of BTC mining already employed clean energy. This assessment showed that BTC's energy consumption and carbon production were much lower than those of gold when compared to the energy required to mine gold.Additionally, a subsequent study from October 2022 suggested that BTC mining might soon contribute to a reduction in climate change. According to estimates of the expansion of carbon-negative energy sources in the BTC network, the company might become completely carbon-neutral as early as 2024.