Cryptocurrencies had a rough time this year. Prices for all major crypto assets tumbled, with some falling by more than 90%. This extended "crypto winter" has left many investors wondering when prices will rebound and whether they should sell now or hold on. From a stakeholder's perspective, it is becoming tougher to survive the crypto winter amid the giants declaring bankruptcy.
The latest victim of this everlasting crypto winter is ByBit's staff. ByBit is a cryptocurrency exchange that can be used for buying and selling cryptocurrencies. It offers a variety of features that make it an attractive option for both new and experienced traders. 
CEO of ByBit Made The Announcement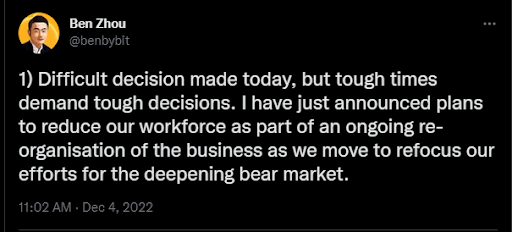 In a tweet thread, Bybit co-founder and CEO Ben Zhou announced plans to reduce the company's workforce. This move is part of an ongoing reorganization of the business, which has been impacted by the current crypto winter. In his post, Zhou apologized to those who will be affected by the cuts and said that they were necessary in order to ensure the survival of the company. 
While this is undoubtedly a difficult time for Bybit and its employees, the company's commitment to weathering the storm is admirable. Hopefully, these plans will help to set Bybit on a path to success in the future.
ByBit Joins The Layoff List
ByBit is not the first cryptocurrency-based company that has chosen layoffs and might not be the last one considering the turmoil in the current market conditions. Coinbase announced last week that it would lay off 1,100 employees, or roughly 18% of its workforce, while crypto lender BlockFi announced that it would decrease its staff numbers by more than 170, or roughly 20%. Crypto.com announced that it would lay off 5% of its workforce, or approximately 260 people.
As per the data available, for this year, there has been a total layoff of 25,000 employees doing their jobs in the crypto and blockchain industry including the massive layoff by Meta of its 11,000 employees. This certainly suggests that besides investors facing significant losses on their crypto investment, individuals who are working in any capacity in this industry are also having the same vulnerability level in terms of layoffs.
Crypto Winter: ByBit to Reduce Staff Size by 30%
Crypto Winter: ByBit to Reduce Staff Size by 30%
The everlasting crypto winter has resulted in ByBit Layoff which will reduce the staff size by 30%
The everlasting crypto winter has resulted in ByBit Layoff which will reduce the staff size by 30%