The NFT ecosystem has been booming since the beginning of 2021 and the rapid growth has made it a centre of attraction. But what makes NFTs so hyped and special that the enthusiasts are going crazy for their purchase?
The NFT ecosystem has been booming since the beginning of 2021 and the rapid growth has made it a center of attraction. But what makes NFTs so hyped and special that the enthusiasts are going crazy for their purchase?
In the financial sense, an asset is considered non-fungible when it is distinctive in nature and due to its uniqueness, it is impossible to exchange that asset with any other asset. A non-fungible token (NFT) is a tokenized version of a product: a digital artwork, a photograph, an audio/visual file, a gif, a collectable series, etc. The factor that makes Non-fungible tokens so hyped and special is their rarity and uniqueness. Most of the assets (tokenized as NFTs) are very rare and one of a kind, due to which the demand in the digital marketplace for NFTs is way too high. These non-fungible tokens are auctioned on several platforms/NFT marketplaces like Raible, Nifty gateway, Opensea, etc. at extravagant prices.
During the Q1 of 2021, over $2 Bn was spent on Non-fungible tokens which represented an increase of about 2100% from the total amount spent on NFTs in Q4 (2020). The sales in 2021 are breaking the all-time-high records on charts and the NFTs available on different platforms such as crypto punks, NBA top shots, Opensea, and others are being auctioned at big figures.
Many NFT-based protocols in the DeFi markets are also skyrocketing in market capitalization.
Celebs Supporting Non-Fungible Ecosystem
As the Blockchain ecosystem is gaining more public attention, the use cases associated with it have also been enticing audiences globally. Many celebs believe in collecting rare and most unique Non-fungibles as a class of investments and a source of earning big figures through reselling. Following is the list of some famous celebrities who have introduced their own NFTs that were well received by people globally.
Elon Musk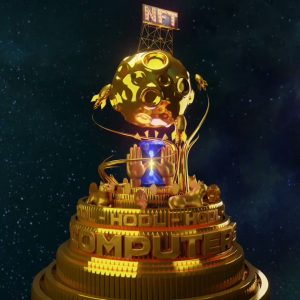 Tesla and SpaceX CEO's fascination with the crypto world has attracted heads around the globe to the blockchain ecosystem and its use cases. On March 17, 2021, the billionaire tweeted about selling a Non-fungible (a techno audio-visual art) for which the highest bid offer was over $1.1Mn. Later he withdrew the sale decision by tweeting that he doesn't feel quite right about selling this. The tweet got a massive response from enthusiasts by receiving 245k likes and 37.8k retweets. It seemed that Musk tried to influence his followers to hold their assets by doing such an action.
Logan Paul
Logan Paul, a controversial content creator and influencer also got motivated by the Non-fungible token craze and launched his own version. His NFT showcased an anime character like him that is holding trading cards which are highlighted with his clothing merch logo "MAVERICK". The Youtube star collaborated with BONDLY, a peer-to-peer exchange that enables trading across several blockchains for developing and distributing NFTs. Reportedly, Paul was able to sell a total of $5 million worth of NFTs in February 2021 (each NFT sold for 1 ETH token).
Ellen Degeneres
A popular face in Hollywood, host of "THE ELLEN SHOW" and a multi-millionaire personality, Ellen DeGeneres manifested her craze about the NFT ecosystem when she introduced her Non-fungible item on the show. The NFT was a selfie of her holding the original drawing of a cat which she named "Woman With Stick Cat". The talk show host announced the auction for her NFT on April 26th, 2021. The NFT proceeds amounted to $33,495 and were donated by her as charity.
Eminem
American Rapper, 15 GRAMMY awards winner, and multi-millionaire artist, EMINEM exhibited his passion for creativity by dropping his first NFT collection in April 2021. The artist reportedly made $1.78 million as proceeds from the sale of his first Non-fungible token collection named "SHADYCON". The NFTs were sold on the NIFTY GATEWAY, and a portion of the proceeds from the auction was donated to the Marshall Mathers Foundation.
Shawn Mendes
Recently, Canadian singer-songwriter Shawn Mendes participated in the Non-fungible token marketplace. The famous singer collaborated with GENIES to create a digital, high-demand non-fungible token and fan collectables on OpenSea. Reportedly, the celebrity was encouraged by his manager Andrew Gertler to introduce his NFT in the marketplace. The proceeds from the sale of NFT would be donated by the singer to his charity foundation named "Shawn Mendes Foundation Wonder Grants Program".
Grimes
Canadian musician, singer, songwriter, and record producer Claire Elise Boucher, popularly known as GRIMES stepped into the NFT ecosystem in February 2021. The artist, collaborating with her brother Mac Boucher, introduced her NFT collection on NIFTY Gateway, a popular platform for NFT auctions. The Crypto Queen auctioned her NFT (WarNymph collection) comprising a total of 10 digital artworks that was able to collect $6 Mn worth of proceeds. A portion of the collected amount was donated to Carbon180, an NGO that is working to reduce the amount of carbon in the environment.
Most Expensive NFT Sales
Being unique and scarce in nature, NFTs are sold at big figures in auctions. Most of the NFTs are digital artworks, audio/video files, gifs, and tweets. However, there are also many real products that are tokenized as NFTs and sold on different platforms across the internet. Following are some of the most expensive NFTs that have been auctioned in digital marketplaces.
Crossroad and Everyday
A Digital artwork "Crossroad" created as a non-fungible token by a renowned artist in the NFT ecosystem, Beeple, sold for an astonishing amount of $69.3 Mn on the Nifty Gateway platform. Following the sale of Crossroad, another NFT was introduced by the artist named "EVERYDAYS : the first 5000 Days" which made history by being the most expensive NFT sale of all time. Surprisingly, the auction was started at $100 at an auction house called Christie's, and eventually, the final bid was closed at $69.3 Million.
"CROSSROADS" (#1/1)
"EVERYDAYS : THE FIRST 5000 DAYS" (#1/1)
In Feb 2021, a unique Nyan cat meme (GIF) NFT from 2011 was sold for approximately $600K, ranking itself as the most expensive GIF sale to date. The NFT is created by a former "NY Ink" star and a famous artist named Chris Torres that was uploaded to a YouTube video in 2011. In an interview, the artist stated, "I'm very surprised with the success, but I think I'm most glad knowing that I've basically opened the door to a whole new meme economy in the crypto world".
Cryptopunks
After a boom in the ecosystem, CryptoPunks was the second famous project which grabbed public attention after the success of Cryptokitties. Cryptopunks is a digital art collection, of 24X24 pixel images of male and female characters. Being the very early NFT project in the market, the value of crypto punks has seen a humongous rise. There are 10,000 crypto punks created in total and some among these are considered very distinctive. Reportedly, Cryptopunk #3100 was sold for $7.58 Mn, which is considered one of the most expensive sales in NFT history. In addition to this, Cryptopunk #7804 was sold for a whopping sum of $7.57 Mn and is considered one of the most expensive NFTs.
Iconic Cryptoqueen
One of the most expensive NFTs (sold at $1.1 Million), "Iconic CryptoQueen" (edition of 1) was introduced by American businesswoman Paris Hilton and auctioned on Nifty Gateway. The millionaire collaborated with Blake Kathryn and launched her own collection of NFTs. Among the collection, "Hummingbird in my metaverse" and "Legend of Love" offered 11 editions for sale. Both series were sold for $10K each, totalling $220K as proceeds. Undoubtedly, the businesswoman has exhibited a keen interest in the NFT ecosystem and would continue to launch new collections of unique, digital art NFTs in the future.
The Future Of NFTs
With the rapid growth and popularity of blockchain and the NFT ecosystem, the potential for what can be an NFT in the future is endless. Not only famous artworks, but the NFT metaverse is also approaching the gaming industry, music industry, Hollywood, and even real-life unique products. A number of exquisite items such as F1 racing cars, lavish properties, hypercars, rare clips in sports tournaments (NBA top shots), concert tickets, etc. have been tokenized and sold as Non-fungible tokens in recent times. With the advancement in technology and more exposure to the public, investment in NFTs has risen substantially.
Developing itself as a multi-million dollar industry, the ecosystem has attracted many celebrities worldwide who either invested or introduced their own non-fungible token in the digital marketplace. Many big media companies (TIME auctioned its three NFTs that are inspired by the Magazine's iconic covers) and firms are planning to launch their own collection of non-fungible tokens, featuring rare and unique items that would sell in the market in no time.
Recently, the social media company "Twitter" gave away 140 NFTs. The company tweeted, "140 free NFTs for 140 of you, besties". The company also changed its bio to "dropping NFTs all day". These NFTs were given away on the Rarible, a Non-fungible token marketplace. There are seven unique NFTs in editions of 20 up for grabs which include 'The Reply Guy', various renditions of the Twitter logo, 'Vitamin T', and others. Approximately, there have been over 29 million tweets on the platform about NFTs. Rapper Jay-Z and Jack Dorsey are planning to add NFTs and smart contract functionality to their co-owned music streaming platform Tidal. Reportedly, "Marvel" (an American Media Franchise) is set to introduce a collection of rare comic books, 3D statues, and digital collectibles as NFTs, enabling fans to hunt for the limited NFT-based merch.
Factors like high-level demand, salient security features, functionality on the blockchain network, and wide applicability of tokenizing many unique articles into NFTs are responsible for the mass adoption of this ecosystem by artists and industries.
Conclusion
With the start of 2021, the Non-fungible token ecosystem has been a hot topic in the digital markets. The unmatchable advantages of NFTs are responsible for the exponential growth of the ecosystem. Although during the recent dip in the crypto sector, many speculations and analysis reports stated that NFTs would exist for a short time in the industry. In May 2021, the market sales volume of the whole NFT ecosystem was reduced by almost $150 Mn. Moreover, the number of NFT wallets also fell almost by 70% within a few weeks. Considering the repercussions of the huge crash, many crypto analysts and media outlets posted that the most-hyped NFT bubble has burst.