In Today's Manic Monday's Letter
Bitcoin breaks $20K support levels
150 Mn worth of XRP transferred from Bithump by a crypto whale
Ethereum drops below the $1K mark
MakerDAO adopts an alternative as staked Ethereum (stETH) slumps
NFT.NYC anticipates a "diverse and eclectic audience" to drive the utility concept of NFTs
Despite the market crash, Elon stays bullish on DOGE
Quick Bites
Bitcoin breaks $20K support levels~
Bitcoin (BTC) plummets below the $20,000 mark for the first time since December 2020, falling 7% percent in the previous 24 hours. Looking on the traditional market side, the U.S stock market also suffered a significant selling last Thursday, the Nasdaq falling 4.1%, and the S&P 500 falling 3.25 %.
150 Mn XRP transferred from Bithump by a crypto whale~
On Thursday, a whale address moved about $51 million worth of XRP coins from Bithumb to an unknown wallet, raising the eyebrows of market trackers. On the 16th of June, at roughly 00:56 UTC, 150 million coins were transferred, according to statistics by Whale Alert.
Ethereum drops below the $1K mark~
Since Saturday, ETH dropped below the $1K mark, now trading at triple digits as the ongoing crypto crash sustains. The ETH crash was hit by the liquidation of significant investments, by Three Arrows Capital and Celsius. According to data by coinglass, a large sum of ETH positions, nearly $27 Mn was dumped on the open market.
MakerDAO adopts an alternative as staked Ethereum (stETH) slumps~
Following the de-peg of Lido-Staked Ethereum (stETH), MakerDAO approved a proposal to adopt an alternative to the token as collateral. The platform authorized Rocket Pool ETH (rETH) as a new vault type, or collateral, in a governance proposal that received 64% acceptance from the MakerDAO community.
NFT.NYC anticipates a "diverse and eclectic audience" to drive the utility concept of NFTs~
Set to take place between 20-23 June, NFT.NYC envisions celebrating the diversity of NFTs across various sectors. According to Cointelegraph, the NFT.NYC team chose 221 new international artists from a pool of 5,000 applicants to display their artwork on a Times Square billboard and around the Marriott Hotel, with a particular emphasis on prioritizing community interests over brands or businesses.
Bitcoin Market Analysis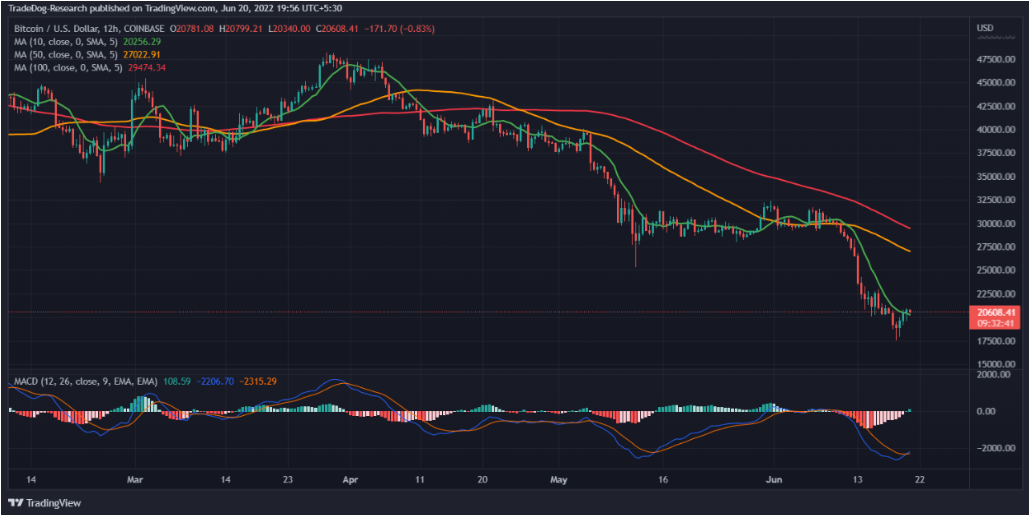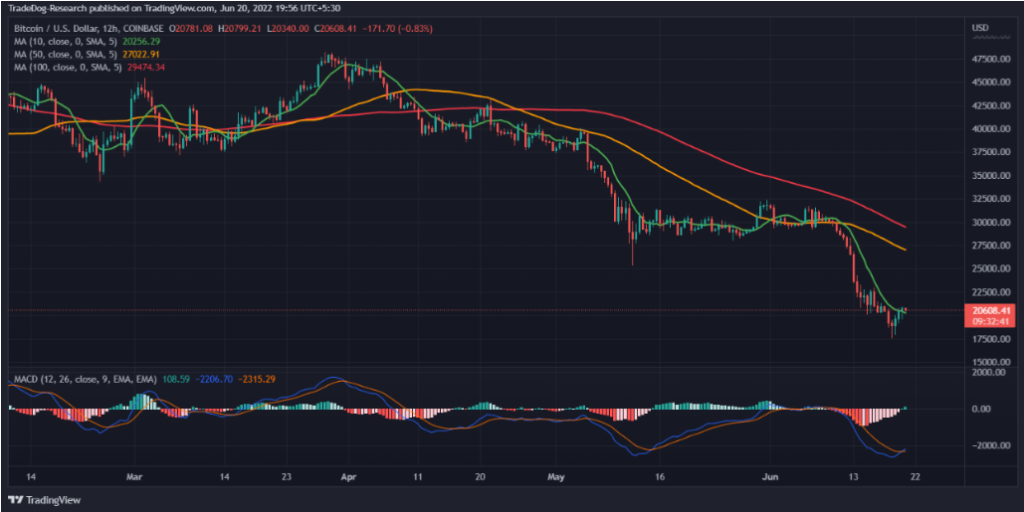 For the past week, Bitcoin faced the wrath of bears as it slipped below the crucial psychological mark of $20K. It has registered a new 52-week low of around $17,500 on the charts, a figure that wasn't imagined by anyone.

However, there has been a positive bounce-back since then. We are witnessing a potential bullish crossover in the MACD which could possibly hint at more positive momentum ahead. The price level is also looking to develop sustainability above MA-10.

On the contrary, if we face profit booking momentum again, support levels can be placed at $20K and $18K. However, if the ongoing positive momentum is sustained, the world's largest cryptocurrency can face resistance at $22K and $24K respectively.
Sprint Updates