Drip Crypto Price Cryptocurrencies have become incredibly popular over the last few years, with new ones always emerging. While some target specific applications, others seek to provide a range of different services. In this blog post, we'll look at Drip Network, which is targeted at users under Web3. Whether you're a seasoned investor or just getting started in the crypto world, this cryptocurrency is worth keeping an eye on!
What is Drip Network
The Drip Network (DRIP) is the "first-ever deflationary daily ROI platform," providing a daily return on investment. Its DRIP token is a BEP-20 token on Binance Smart Chain (BSC) that promises investors 1% daily returns for up to 365% of their initial investment. The rewards are derived from a 10% tax on all transactions.
For example, if you deposit $1,000 into the Drip Network, you will pay a 10% deposit tax and receive 1% on the remaining $900 daily. You do not get your principal back, but you can get up to 365% back in rewards, or $3,285 (365%*$900). You can also reinvest your rewards to increase your potential maximum payout.
Why Invest in Drip Network
Drip Network approaches deflationary dynamics differently than other reflective tokens, making it an intriguing case study. Drip Network's three main features are its routine rewards, referral system, and compounding framework.
Investors can purchase DRIP from the site's native "fountain contract" and avoid the 10% deposit tax, or they can purchase it from Pancakeswap and pay the tax. As previously stated, investors lose their deposits but receive 1% daily rewards from "The Faucet." According to Drip Network, deposits into the Faucet are sent to a burn address, making DRIP deflationary. The protocol, however, does not specify whether all deposited DRIP is burned or only a portion of it.
Drip Crypto Token Statistics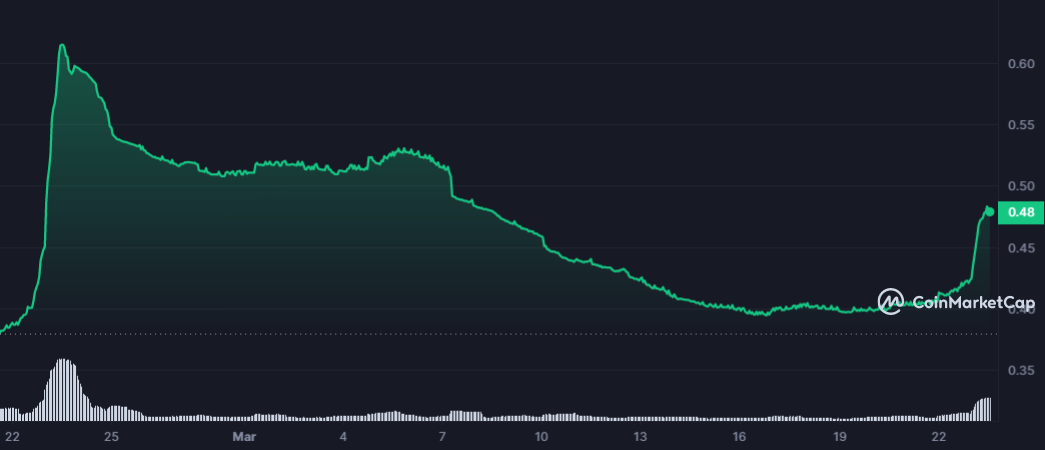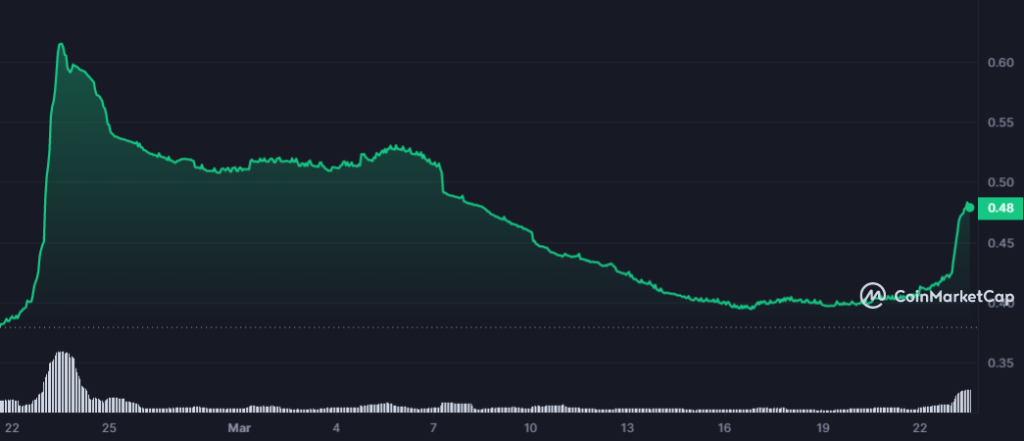 At the time of writing, Drip Network's price is trading at $0.48 with a market capitalization of just $47K. The fully diluted market capitalization of the project is valued at $48.14 million, while it has received a trading volume of $113K in the past 24-hour timeframe. Currently, the token is trading at just a little above its all-time low, while its ATH was marked at the start of the year at a price level of $170. Drip crypto token is listed on Pancakeswap with a pair of BUSD. 
Drip Network Price Prediction


At the start of 2022, DRIP attained its all-time high of approximately $170, possibly because of the positive sentiment in the market surrounded at that time. Since then, as the overall market conditions turned negative, the token faced the wrath of the bears. In the past month (Feb 2023), it faced an all-time low of $0.26, approximately -99.72% down from its ATH. The token is only listed on PancakeSwap. Getting listed on any centralized exchange may help the token generate some volume.
DRIP can regain its positive momentum by surpassing the resistance levels of $0.50 and $0.80 on the technical front. While the current price level has temporarily dipped, it presents an attractive opportunity for investors to establish a support level at $0.25. By implementing strong developments and updates, DRIP can generate demand for its token, leading to increased circulation and a brighter future for the project.
FAQ of Drip Network
Is Drip a good crypto investment?
Drip Network is currently trading at a relatively low price level. Therefore, there's certainly an entry opportunity. However, the liquidity of the token might be a concern, with the 24-hour volume traded being just around $15,000. Furthermore, the token is not listed on any centralized exchanges. Therefore, it might be difficult for investors to get the conversion of tokens. 
How long can drip network last?
The very nature of blockchain technology is ever-lasting until the founding team has taken down the application. Therefore, we expect Drip Network to sustain until and unless the founding team decides to take down the protocol.
What is happening with Drip Network?
Drip Network faced the wrath of overall market conditions since the start of the year. It attained the price level of $0.80, which is its all-time high this year, and then suddenly fell to its all-time low of approximately $.025. However, since then, as the overall market conditions continue to improve, the current price level is trading at $0.50 
How risky is drip network?
Investing in Drip Network might be slightly risky as the token is only listed on PancakeSwap and only with a single pair. This might create liquidity problems for retail investors. Furthermore, it's been quite some time since the project had a significant upgrade or development. 
How to buy drip network?
Drip Network is currently listed on PancakeSwap (DRIP/BUSD). You can buy DRIP token by exchanging BUSD on the decentralized exchange.