Investors are facing another crisis as several crypto exchanges have halted withdraws due to the collapse of FTX. This is just the latest in a series of blows to the crypto market, which has seen its value plummet in recent months. With liquidity drying up, investors are struggling to find ways to access their funds. While it is still too early to say what will happen next, this is a worrying development for the crypto community.
Past History of Liquid Global and FTX
The latest FTX contagion's victim is its owned Japanese exchange, Liquid Global. It was bought by FTX earlier this year and said that it is halting all user's crypto withdrawals amid FTX filed for Chapter 11 bankruptcy in the U.S.
FTX Trading Ltd acquired Liquid Group and all of its operating subsidiaries earlier this year, including Japan-based Quoine Corporation and Singapore-based Quoine Pte. Quoine Corporation's Liquid Exchange was one of the first cryptocurrency exchanges to be fully licensed by the Japan Financial Services Agency, and the company has also applied for a license with the Singapore Monetary Authority.
Why did Liquid Global Halted Crypto Withdrawals?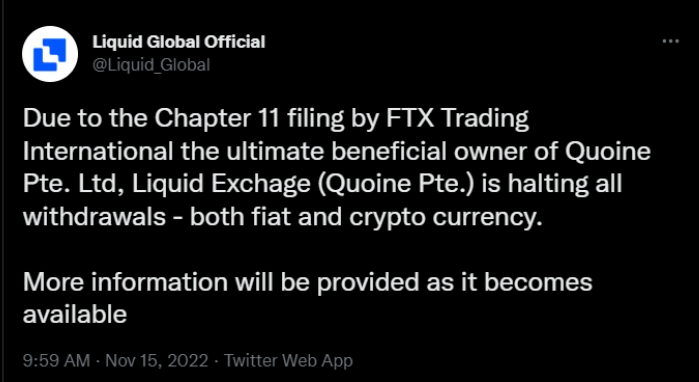 Liquid cited complying with the requirements of voluntary Chapter 11 proceedings in the United States as one of the reasons for the suspension. The exchange emphasized that the latest measures are "not a security-related halt," and that more information will be provided at a later date. The company also advised its customers not to deposit either fiat or cryptocurrency until more information is available.
The announcement comes just days after Liquid stated that customer assets in Liquid wallets were unaffected, despite the FTX exchange suspending all withdrawals on November 10.
Other Crypto Stakeholders also Affected
The suspension of withdrawals by Liquid Global adds to the existing list of businesses affected by recent events, including crypto lending and trading platform BlockFi, which did the same last week, and crypto venture firm Sino Global Capital, which revealed losses due to its "mid-seven figures" exposure to FTX. CoinShares, a crypto investment, and trading group announced last week that it had a $30.3 million exposure to FTX.
Recent court filings also revealed that over a million creditors may have statements against the bankrupt exchange, with more information almost certainly to come.