Binance & FTX are both crypto exchanges, where people can buy, trade, and manage cryptocurrencies; both platforms have their own crypto token, respectively BNB & FTT
Binance, founded in 2017 by Changpeng Zhao (CZ), was an early investor in FTX, founded in 2019 by Sam Bankman-Fried (SBF)
FTX quickly grew to become the #2 biggest crypto exchange, after Binance (FTX reaching +15% of the trading volume of Binance)
Friends became competitors and CZ (Binance) decides to sell its stake in FTX, in mid-2021. Binance agreed to take $2B of FTX's token FTT as part of the buy-out deal.
At this point, Binance is the #1 exchange with a rather aggressive growth strategy while owning 2 BILLION dollars of its main competitor's native token.
Flash forward to earlier this week
Last week, FTX's problems came to light when CoinDesk published a report that showed Alameda Research, FTX's sister company, had billions of dollars in FTT on its balance sheet in illiquid FTT tokens.
The discovery of Alameda's financial exposure to FTT raised questions about FTX's liquidity and how quickly it can be converted back into cash. (The details of the relationship between Alameda and FTX have been foggy for some time now.)
As reported by many financial reporters, FTX founder SBF has been lobbying in a way that would hurt Binance.

In the wake of a recent expose by CoinDesk, Binance founder CZ decided to get back at FTX by publicly announcing his intent to sell their 2 billion dollar worth of FTT (total market cap of 3 billion at that time)
Imagine owning something that doesn't have huge demand in the first place, and now there is a real risk of the market being splashed by excessive amounts of the exact stuff you own ⇒ gigantic pressure to sell now before it's worth nothing anymore
FTT holders start to panic sell and the price drops 20% putting FTX in a bad spot
But there's more! SBF owns hedge fund Alameda Research which has $12 billion in assets, providing liquidity to FTX… unfortunately 50% of their assets are in FTT, which at the time was crashing.
If FTT is dying = Alameda might not have the funds to back FTX as an exchange = FTX users get scared and withdraw their crypto = more sell pressure on FTT = less funds = …
A downward spiral starts, resulting in a virtual bank run on FTX (over $1 billion of withdrawals) = "liquidity crunch"
In a matter of 48 hours, FTX goes from reporting being "fine" to halting cash withdrawals.
On 8th November, SBF and CZ confirmed that FTX and Binance enter a strategic partnership – due diligence to acquire FTX is ongoing
Binance reportedly will acquire FTX to "save them" and avoid users losing funds, saving the crypto market from a complete meltdown
CZ of Binance plays 3D chess while others are playing checkers.
Binance's CZ Asks Employees Not to Trade FTT While FTX Deal Is Pending.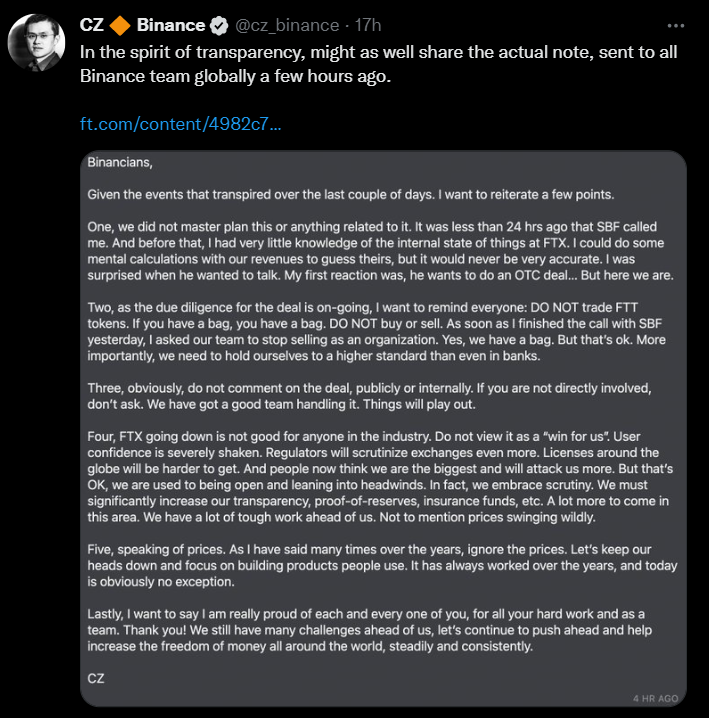 In a note to employees, CZ wrote that "We need to hold ourselves to a higher standard than even in banks." He also shared this sentiment on Twitter.