The first quarter of 2023 was filled with volatility for stablecoins. Major instances like the collapse of large-scale traditional banks like SVB (Silicon Valley Bank) had the effect of unstable price momentum in this once "stable" segment. Let's explore this blog to understand the state of Stablecoins in the first Quarter of 2023 and the key pointers that led to their current state.
Stablecoins Statistics: Q1 2023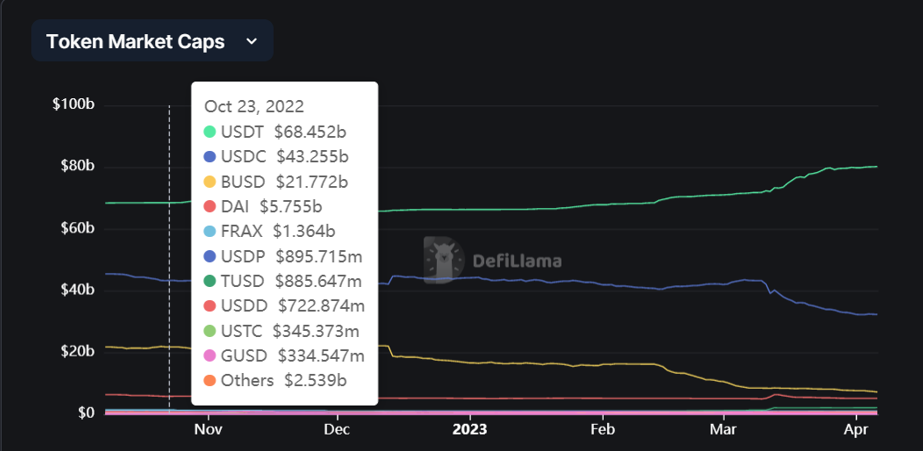 Currently, the total stablecoin market capitalization is $130 Billion+. In the first quarter of 2023, the market cap of the top 15 stablecoins fell by 4.5% ($6.2 billion). Reasons for this fall had been linked to various instances that shook the market sentiment like Paxos' shutdown of Binance USD (BUSD) and the brief USD Coin (USDC) de-pegging event during SVB's collapse.
However, some things remained constant, with USDT, the largest stablecoin maintaining its market dominance of more than 60%. Tether (USDT) increased its market capitalization by 20.5% ($13.6 billion) in Q1, 2023 when compared to the previous quarter. USDC and BUSD lost 26.9% and 54.5%, respectively, wiping out the positive impact of its gains in the year 2022. Overall, the sentiment in the First Quarter of 2023 for stablecoins was mostly negative, filled with uncertainty due to multiple market occurrences as mentioned later in this blog.
Top 5 Stablecoins in Q1 2023
| | |
| --- | --- |
| Name | Market Cap |
| Tether (USDT) | $81 Billion |
| USD Coin (USDC) | $30 Billion |
| Binance USD (BUSD) | $6 Billion |
| DAI (DAI) | $4 Billion |
| TrueUSD (TUSD) | $2 Billion |
The market capitalization rankings for the top 5 stablecoins have stayed relatively the same as the previous quarter of 2022, up until the fourth spot. However, there has been a change in the fifth spot with the emergence of TUSD. True USD established its presence in the top 5 stablecoins of the first quarter of 2023 by overtaking FRAX. Other than that, Binance issued $130 million TUSD, while Tron issued an additional $750 million, increasing its market cap by 169.3%.  Outside of the top five stablecoins, GUSD and USDP fell 32.0% and 12.3%, respectively.
Market Turbulence in Q1, 2023
Binance Scales back its BUSD operations
After the SEC's crackdown on stablecoins in January, Binance decided to reduce its BUSD operations. As per a press release, by the end of Q1 2023, Binance stopped holding BUSD in its Secure Asset Fund for Users (SAFU) and instead hold ERC-20 TUSD and BEP-20 USDT. The world's largest cryptocurrency exchange assured that the transition would be smooth and would not affect users. Binance also shared the wallet addresses where the funds will be held. The move was deemed necessary due to Paxos' decision to stop minting BUSD, which will result in a gradual decline in the stablecoin's market cap.
SVB Collapse and USDC Depegging
Moreover, in the middle of March, USDC faced an unexpected and extreme event when it was disclosed that its parent company, Circle, had $3.3 billion of its cash reserves held at Silicon Valley Bank, which was now liquidated. As a result of this news, the stablecoin's value plummeted to under 88 cents, representing a 13% drop. In Q1, its market capitalization declined by over 25%, while USDT's increased by 20%. To gain a better understanding of the entire situation, the chart below can be analyzed.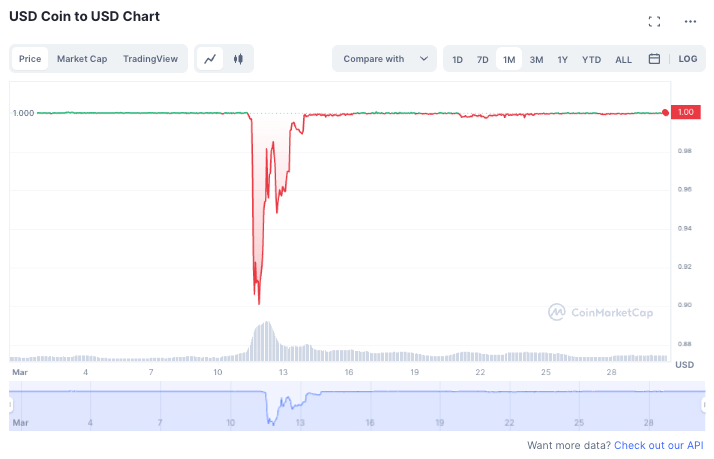 The SVB crisis caused the USDC stablecoin to be depegged from the dollar (to $0.88), causing a massive chain reaction within DeFi. As a result, during the two-day crisis period, the following sectors experienced the greatest drop in market capitalization: gambling (-74%), yield aggregator (-15%), and lending and borrowing (-8%).
As investors fled to safer assets, the banking crisis had a significant impact on asset flow. Fear and uncertainty drove people away from smaller-cap altcoins and towards larger, safer assets like BTC and ETH. Normally, investors would be able to park their funds in stablecoins, but the depegging prompted yet another rush to safety. As a result, BTC prices quickly recovered and rose by 42% in the 10 days following the event, while ETH prices rose by 27%, driving the increase in total market cap during the second half of the month.
Conclusion
In conclusion, the first quarter of 2023 was a tumultuous period for stablecoins. The market experienced significant turbulence due to a variety of factors, including the collapse of large-scale traditional banks like SVB and Paxos' shutdown of Binance USD. As a result, the total stablecoin market capitalization fell by 4.5% ($6.2 billion). However, despite these challenges, Tether (USDT) maintained its position as the largest stablecoin with a market dominance of more than 60%. The emergence of TrueUSD (TUSD) in the top 5 stablecoins was a significant development during this period. Looking ahead, stablecoins continue to be an essential component of the cryptocurrency ecosystem, offering an alternative to the high volatility of other cryptocurrencies. However, it's critical to keep an eye on market developments to ensure that stablecoins remain stable and reliable investment options for the future.