What is Celsius?
Celsius-Network is a CeFi lending and borrowing platform that has made crypto accessible to 1.7 Mn+ users. It could be thought of as a centralised version of the DeFi protocols wherein it offers the users to earn up to 18.5% APY on their 50+ digital assets that the network supports. Celsius claims to have processed $8.20Bn+ in loans and has AUM of around $11.2 Bn.
Why Celsius in News?
CEL- the native token of the Celsius network crashed by 53% today (June 13, 2022) and is currently down 25% from its opening price today. The panic triggered with the announcement by the Celsius network that it has paused all withdrawals, swap and transfers between the accounts due to extreme market conditions. As per their memo, they took this action to stabilize liquidity and operations and preserve the assets. Furthermore, customers will continue to accrue rewards on their investments during the halt period.
Is Celsius Network safe?
With the merge for Eth2.0 planned to be live by this year and to prevent any attack during the transition to ETH2.0, ~55K stakers have staked ~12.3Mn ETH valued at a whooping $15.2Bn. This led to the birth of protocols like Lido, Ankr, etc. that created derivatives of these locked ETH tokens (eg- stETH) and hence offered liquidity for these assets.
There were speculations in the crypto streets that Celsius has not been able to cope up with the current pace of user withdrawals i.e. there may be mismanagement in the ratio of capital deployed to held to honor the withdrawal request. This tweet below dated Jun 5, 2022, could be referred to as fire-alarm reflecting that Celsius may fail to oblige to the liability that it owes.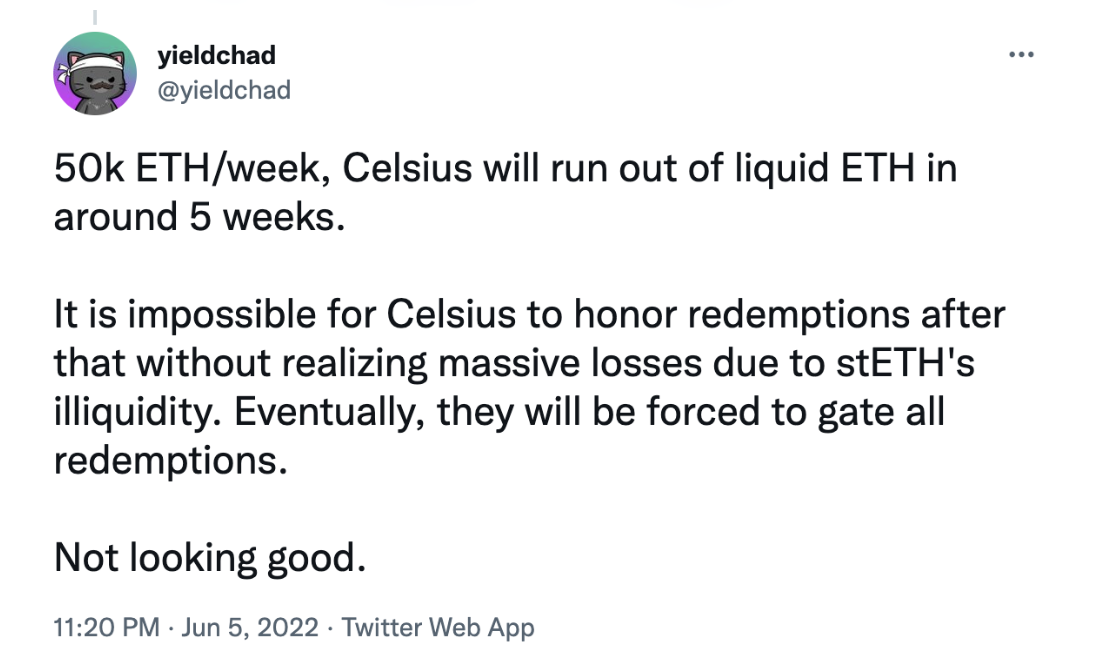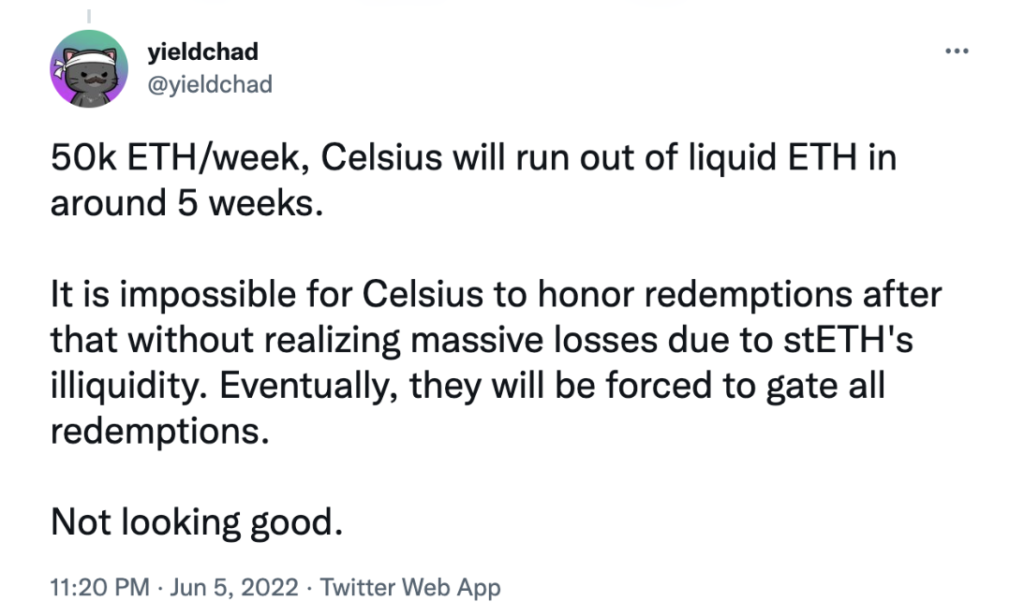 Celsius supposed to use DeFi to generate yields with customer deposits and share a portion of earnings with them. They allegedly lost funds in exploits on StakeHound and Badger and possibly also in Luna/UST while they may have staked a lot of ETH to earn rewards.
This staked ETH is prima facie illiquid till the ETH2.0 goes live. To add to it, even their stETH can be considered as illiquid as their position size is larger than the liquidity available. If they try to liquidate their positions, it would trigger fear in the markets and could possibly de-peg enormously (stETH- ETH peg), crashing down as in the case of UST- LUNA.
What lies ahead?
Celsius depositors are the ones who would be most affected by the mismanagement in the books. The best scenario under current circumstances if Celsius is in this alleged position, would be, to probably trade-off stETH positions in OTC markets at a discount to prevent the market from tanking further and thus instilling confidence of the people in its platform.