What are web3 wallets?
The simplest definition of a web3 wallet is a digital wallet that can be used to hold digital assets. Non-fungible tokens are one type of these digital assets (NFTs). Web3 wallets frequently function as non-custodial wallets, allowing the owner of the wallet to hold digital assets independently. Additionally, the lack of a third party renders KYC/AML unnecessary, protecting the anonymity and privacy of wallet owners.
A web3 wallet comes with its own private keys or seed phrase that is used to access the wallet, and it is the owner's obligation to keep the wallet secure. It serves as a means of storing digital assets as well as sending and receiving them. It can be used in exchanging tokens as well.

There is a wide range of different wallets on the market that have their own strengths. Some of the most popular ones are MetaMask, TrustWallet, Argent, etc. We are going to dive deeper into one of the most common web3 wallets – Metamask the next few sections.
What is a Metamask wallet?
MetaMask is one of the most well-known cryptocurrency wallets available on the market. Besides being a wallet, MetaMask also acts as a gateway to access blockchain applications, enabling web applications to communicate with blockchains more easily. It is available as both a mobile application and a browser extension/add-on.
Users may easily engage with decentralized applications and the Ethereum blockchain using MetaMask, which also serves as an authenticator. As a result, it serves as an essential entry point to Web3 and decentralized applications, enabling anonymous and secure transactions.

Interesting Fact! MetaMask already has over one million users all over the world and is a great way to get into crypto!
One of the key benefits of MetaMask is that links to the Ethereum blockchain, giving users access to the vast Ethereum ecosystem. Users have access to decentralised exchanges (DEXs), gaming platforms, and other intriguing applications thanks to the wide variety of dApps available in this ecosystem.
Why Metamask is so popular?
Metamask has gained popularity due to the long list of benefits and experiences it provides to its users. Here are some of the reasons why Metamask grew in popularity over the years:

1) Easy Download and setup across devices: MetaMask is simple to set up on a computer and various devices. Create one wallet first, then use the 12-word MetaMask wallet seed phrase to import it onto other devices.
2) Simplistic registration process requiring no personally identifiable data: One of the major reasons for MetaMask being so popular among others is that it has one of the most simplistic registration processes and does not require the user to fill in any personal data.
3) Create various wallets using a single software: The ability to generate several MetaMask wallet addresses across blockchains after installing MetaMask gives users even greater privacy and enables them to designate specific wallets for particular types of transactions.
4) Supports all ERC-20 tokens, NFTs, and multiple blockchains: Users of MetaMask can hold Ethereum-compatible tokens and non-fungible tokens (NFTs) on a variety of blockchains, such as the Ethereum main chain, the Binance BNB blockchain, Polygon, Avalanche, and other test network chains, using wallets.
From the readings above, it is simple to understand why MetaMask is a well-liked wallet. It is due to its simplicity, accessibility across devices, connection with exchange and NFT websites, compatibility for thousands of tokens across different blockchains, and ease of usage that MetaMask has picked up steam over the years.

How to use MetaMask wallet (creating a wallet, depositing funds/tokens, swapping tokens, withdrawing tokens)
There are two main components you'll need to familiarize yourself with so that you can begin using the software:

1)Your public address identification: This is the address that you can freely share with other individuals or with websites like exchanges to receive cryptocurrency into your wallet. Consider it as the home address you give out to receive letters from others. To avoid losing incoming tokens for good, it is usually a good idea to confirm that MetaMask can handle them before accepting them.

2) Buying/Sending Funds/Tokens: You must first fund your MetaMask wallet with some ether, Ethereum's native coin, in order to start interacting with any Ethereum network. Creating an NFT collection or moving tokens from A to B both incur fees on the blockchain. This price, referred to as a "gas" fee, is also expressed in ether.
Sending tokens with MetaMask:
Depending on your location, you can send ETH or any other ERC-20 tokens to your MetaMask Wallet through a centralised exchange like Coinbase or Binance or from another wallet. Simply press your MetaMask wallet address to copy (that is, the 42-character public key that starts with 0x) to accomplish this. Send ETH to this address using your exchange.
You will be charged a gas fee to send tokens, so make sure you have additional ETH in your account. Depending on how often the Ethereum network is used, gas prices can change. You can check Etherscan's Gas Station to see the current average price, which is 145 Gwei, or roughly $15.48.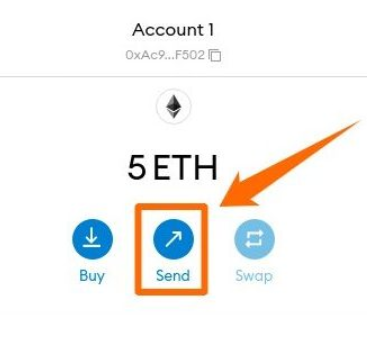 Swapping tokens with MetaMask:
Swaps combine data from multiple decentralized exchange aggregators, professional market makers, and individual DEXs — like AirSwap — to ensure MetaMask users always get the best price with the lowest network fees. Here's how you do it: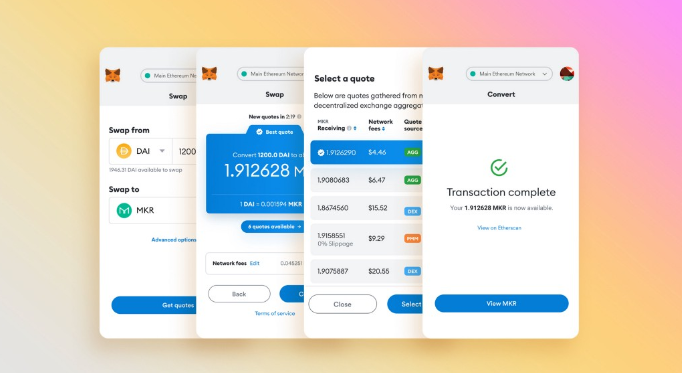 1)Open the MetaMask extension
2)Click the new 'Swap' button
3)Select the tokens you want to swap and click 'Get quotes'
4)Let MetaMask work it's magic
5)Compare all available quotes and select the best one
6)Click on 'Swap' and wait until the transaction completes
Withdrawing from MetaMask:
The MetaMask Wallet does not permit direct cash withdrawals or direct sales of Ethereum tokens. You'll need a cryptocurrency exchange if you wish to withdraw money from your MetaMask Wallet.
Follow these steps to withdraw your tokens to your bank account from MetaMask:
1)Create an account on Binance
2)Find your Ethereum address on Binance
3)Send ETH from Metamask
4)Sell the ETH on Binance
5)Withdraw the money into your bank account linked with Binance

Why do I need a MetaMask wallet?
Straightforwardly put, here's why you need to use MetaMask as your primary source of cryptocurrency transactions:
Popular – It is commonly used, so users only need one plugin to access a wide range of dapps.
Simplstic – Instead of managing private keys, users just need to remember a list of words, and transactions are signed on their behalf.
Saves space – Users don't have to download the Ethereum blockchain, as MetaMask sends requests to nodes outside of the user's computer.
Integrated – Dapps are designed to work with MetaMask, so it becomes much easier to send Ether in and out.
Is MetaMask wallet safer than Coinbase and Binance?
The Security Level is a crucial factor to determine your choice of cryptocurrency wallets. It may help you know how safe your crypto assets would be if kept in a specific wallet.
It's clear from comparing Binance and MetaMask that Binance offers a few more security measures than MetaMask a crypto exchange that uses 2-factor authentication to secure its transactions, whereas Metamask is a free wallet.
Furthermore, more options and levels of safety are provided by Coinbase. Coinbase is in fact just as secure as reputable banks. Some people claim MetaMask is a little glitchy. Due to the difficulty of hacking MetaMask, phishing assaults are a common complaint among users.
By this standard, Coinbase Wallet exceeds MetaMask in terms of payment security. On Coinbase rather than MetaMask, you are more likely to locate your preferred payment method among the approved payment options. Because you can deposit some of the most well-liked currencies, Coinbase Wallet is more accessible because it supports more widely used coins.
Is MetaMask a good wallet?
The widely used MetaMask cryptocurrency wallet is renowned for its simplicity of use, compatibility with desktop and mobile platforms, ability to buy, transmit, and receive cryptocurrencies directly from the wallet, and capacity to gather non-fungible tokens (NFTs) across two blockchains. While seasoned cryptocurrency users will appreciate the ease of use and speed of transactions, those who are new to the field are more likely to lose their tokens to stolen secret words, malicious websites, and other cryptocurrency scams.