If you're a crypto investor, then you may have already heard of Chiliz (CHZ). It is a cryptocurrency that allows sports fans to have unique experiences with their favorite teams and athletes. For example, you can use Chiliz CHZ to vote on which players make the team or to get exclusive access to tickets and merchandise. So if you're looking for a way to get more involved in your favorite sport, Chiliz CHZ is definitely worth checking out!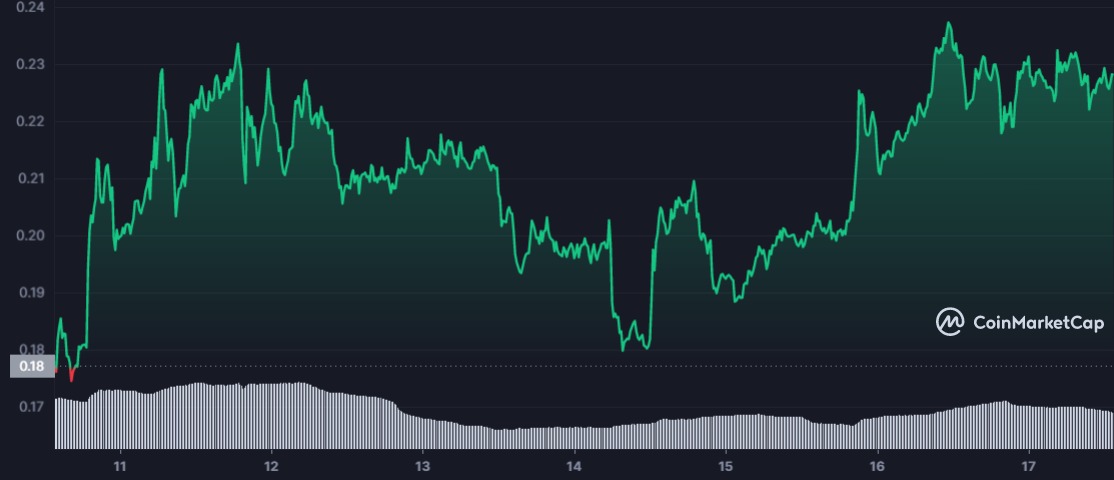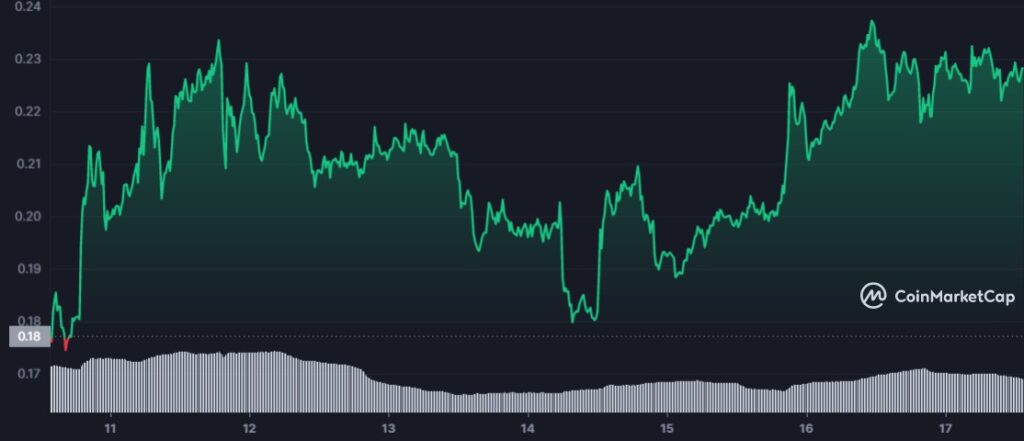 The price performance of Chiliz (CHZ) token is significantly positive as compared to other cryptocurrencies as it registered a weekly gain of approximately 30% at the time of writing. Since the past couple of days, the price level build up a bullish rally from $0.18 to $0.25 and still sustaining at higher levels. However, at the time of writing, Chiliz token was down by approximately -2.00% which might indicate that profit booking momentum might have started. Nevertheless, the token is able to perform in such bearish markets which suggests the fundamentals of the whole project are quite strong
Chiliz Token News
Chiliz publicly stated that FTX users who held CHZ could receive up to $10,000 in compensation. Their decision to allocate 38 million CHZ tokens to a public address made this possible. Alexandre Dreyfus, the creator of the sports-based blockchain provider, pointed out that the relief was only for retail investors.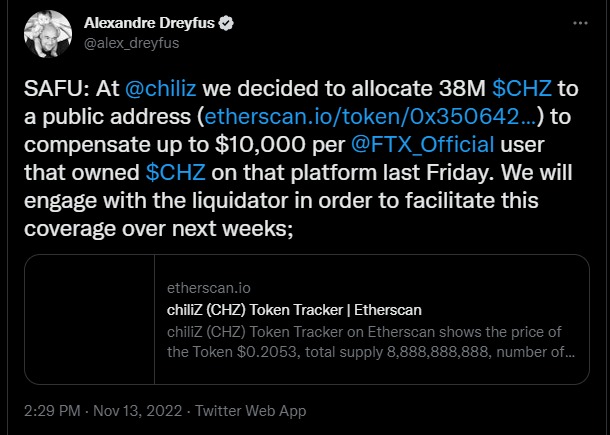 On November 12, the already troubled FTX exchange was hacked for more than $400 million. Surprisingly, this occurred only a few hours after the exchange declared bankruptcy. Unfortunately, Dreyfus claims that the hack stole 37 million CHZ.
Chiliz Technical Analysis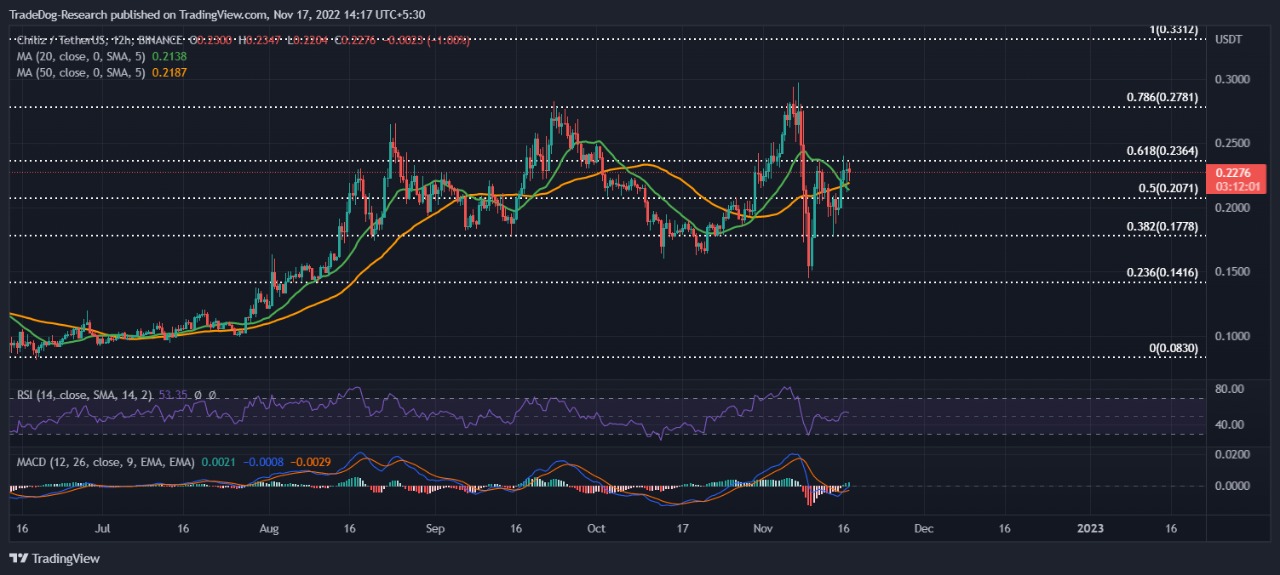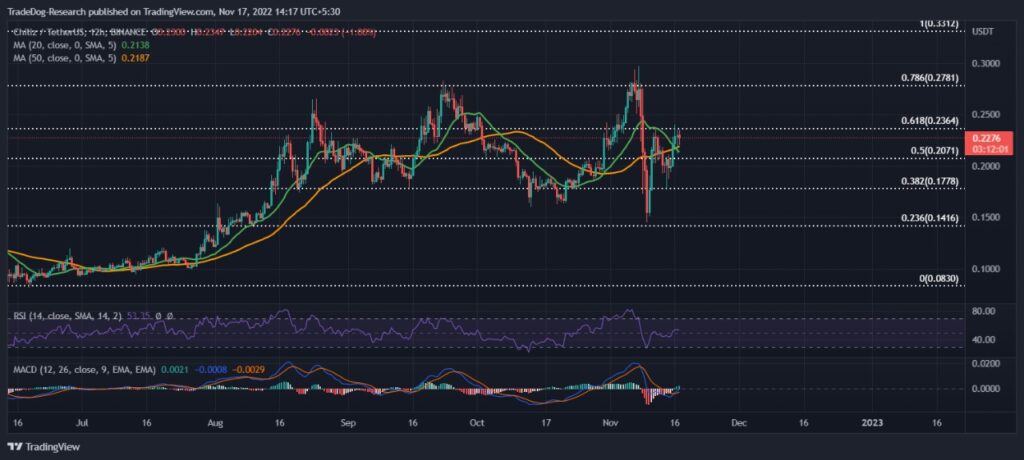 The technical chart of Chiliz reflects that irrespective of the prevailing market conditions, CHZ was able to have positive performance. The bullish rally for the token started around August and went upto the price level of $0.27. The CMP is around $0.22 which suggests that despite other cryptocurrencies trading at their 52-week lows, Chiliz has been able to avoid a significant price decline. Currently, it is facing strong resistance above 0.618 FIB level.
Considering the technical indicators, RSI is looking to maintain sustainability above 50. However, it is showcasing negative nature at the same time. The MACD level is looking for recovery as facing a bearish crossover with a sharp nosedive below the histogram. Green bars have started to formulate on the histogram. Overall, CHZ token needs to break the resistance levels of $0.25 and $0.30 respectively. In case, profit booking kicks in, it can have support at the price level of $0.20 and $0.15, respectively.