Inception of Metaverse
Metaverse had a long history of ideation, even beyond what we traditionally accept.
The possibilities of a digital world have always intrigued people. A world having complex features enabling possibilities for real-world utilities in a digital environment has been ideated for a long time. Metaverse's history begins with a 30-year-old sci-fi novel titled Snow Crash. This was the first book that mentioned the term 'Metaverse' and the source which coined it. The novel depicts people using virtual reality technology and digital avatars of themselves to explore an online, digital world.
Today's Metaverse
In today's world, the metaverse is not just a hypothetical entity, but is instead something tangible and getting developed by different organizations trying to make it big. Today, there exist different metaverse having their own unique identities, be it for gaming, education, simulations, or anything else. There are metaverse's being developed like "Megaverse"- which is a hyper-realistic metaverse and MetAmazonia which is building a 3D copy metaverse of the Amazon rainforest, both incubated by TDeFi.
Talking about the "Metaverse of today", the contribution of Decentraland and Sandbox to enabling mass adoption cannot be undermined. They have also been responsible for many breakthroughs in the concepts like virtual real estate and utilities of tokens in the metaverse and are the benchmark of virtual ingenuity.
Decentraland: Overview
Decentraland is a 3D, decentralized virtual reality platform built on the Ethereum blockchain. The primary focus of the platform is the ownership of parcels of digital lands where users can create unique environments in a virtual world. Users can "traverse" unique areas of content created by the content creators who further capture value from their contributions to the platform.
History of Decentraland
Historically it had been realized that users generally gather, interact, share content, and play games on large social channels like Facebook. The team believes that a decentralized platform will allow users to experience and understand the benefits of decentralization over traditional systems. Users and project partners accrue benefits from transactions on the platform instead of a single major party.
Decentraland's ecosystem is run by two tokens: LAND, which is the Non-Fungible token and MANA, which is the Fungible in game utility token.Land parcels in the metaverse are denoted as LAND NFTs. Ownership of LAND is managed through a smart contract. To purchase LAND users must burn ERC20 MANA tokens. In-game goods and services are also purchased using the MANA tokens.
In December 2017, the first LAND tokens of Genesis City were auctioned off. In March 2018, the Decentraland Marketplace was released allowing LAND to trade in Genesis City as well as explore the area on a map.
Currently, decentraland is aiming to launch its offerings on a mobile app to enable widespread and easy utility. Also, by Q4 2022, they aim to integrate VR in their metaverse along with smooth integration of SDKs to enable ease of UGC in their metaverse.
What can you do in Decentraland?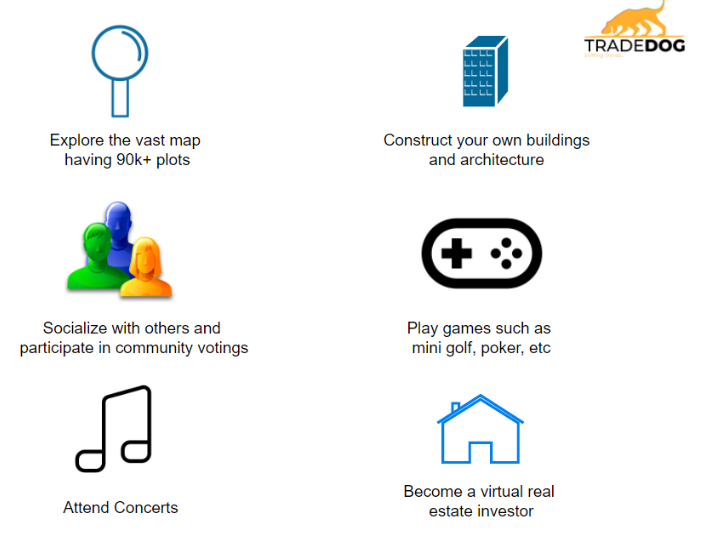 MANA Token: Fueling Decentraland Economy
The MANA token, which is essentially an ERC-20 token fuel the entire decentraland ecosystem. Its use cases are as follows:
NFTs and collectibles
NFTs are integral to the overall business model of Decentraland and its use case for the growth of its MANA token, which is the currency used to buy and sell collectible NFTs. Users walk about and explore the 3D environment just like an imitation of a real art gallery and enjoy the virtual environment. Famous platforms and galleries like Async, makersplace, and even the physically existing London art gallery Sotheby's have opened their own virtual gallery in Decentraland's metaverse, all utilizing MANA token as a medium of exchange and conducting business.
Advertising
One of the major use of the MANA token realized is for advertising and brand development. Certain areas of Decentraland see more traffic and user interaction in form of playing games, watching events, or shopping. These areas, just like the real world accrue more value as footfall increases for them and is an important criterion and opportunity for digital marketers.
These factors pave the way for NFT billboard advertising or through artwork or music.
All this is done via the use of the MANA token.
Governance
The ownership of the MANA token functions as a means of validating decisions and authenticating votes made through the platform's DAO. For example, decisions regarding whitelisting of avatar NFTs, members of the security council, addition/alteration of servers, etc can be voted upon by the holders.
The SandBox: Overview
The Sandbox is a virtual world where players can build, own, and monetize their gaming experiences by using NFTs and $SAND, the platform's utility token. All digital assets created by the players are stored in the form of NFTs. These NFTs can be traded on the marketplace or integrated into games with The Sandbox Game Maker. The Sandbox metaverse is built of LAND, which is digital real estate that players can buy and experience on top.
History of The SandBox
The Sandbox project was initiated in 2012 on a mobile platform with over 40 million global installations. In January 2018, The Sandbox project started the development of a 3D, a multiplayer platform using blockchain technology to enable a virtual world to allow users to build, own, and monetize their gaming experiences.
In the last 4 years, The Sandbox has built a 100% ownership economy with LAND and NFTs. Recently, they conducted a fundraising round at a valuation of $4 billion from both new and existing investors. The Sandbox has secured more than 100 partnerships to develop content on the platform, including brands like Smurfs, Shaun the Sheep, dApp game studios like Dapper Labs, investors such as Square Enix (Final Fantasy, Tomb Raider), and iconic game companies like ATARI (Rollercoaster Tycoon, Pong)
SAND Token: Fueling SandBox economy
$SAND is the ERC-20 token that will be used all across The Sandbox metaverse. It will enable players to create, play, own, govern, trade, and earn within The Sandbox metaverse.
The Sandbox also utilizes the ERC-721 non-fungible token standard for its LAND NFTs.
$SAND has the following utilities:
Medium of exchange
Players can acquire $SAND via gameplay rewards, and subsequently spend $SAND to play games, purchase equipment, or customize Avatar characters. Creators can spend $SAND to purchase LAND and other in-game assets. Artists can spend $SAND to upload NFTs to the Marketplace and buy GEMs for defining item rarity.
Governance
Holders of $SAND token can participate in governance decisions. This enables true decentralization and ensures that community viewpoints are taken note of. The holders can also delegate voting rights to other players of their choice.
Decentraland Vs SandBox: Which one is better?
For now, It can be seen that The Sandbox and Decentraland remain very close in terms of utilities and popularity. They both are metaverse's that have seen widespread support from communities, ever-increasing uses basis, and are getting regularly updated in accordance to user experiences.
The Sandbox is ahead of decentraland in terms of partnerships, investors, and developers behind. However, both could be good investments, but taking into consideration the price trends and overall future strategy, The Sandbox seems to be the better way to go.
As mentioned earlier, Sandbox has partnered with more than 100 brands and recently they brought in big names like Adidas and the rapper Snoop Dogg, increasing its overall popularity, user base, and token price, thus making it a better investment.
Although Decentraland has also partnered with certain big brands like metaverse like Samsung and Coca-cola, increasing its hype, but in my opinion, it still has ways to go before it can overtake The Sandbox in this domain.