The overall market conditions have been positive for the past week, as the majority of cryptocurrencies were able to register considerable weekly gains. BTC is up by 6.66% on a weekly basis, while Ethereum had a massive bullish rally of 18.14%. IOTA also participated in the bullish rally, having a weekly gain of nearly 6.00% at the time of writing.
IOTA Price Analysis: MIOTA Poised for Positive Breakout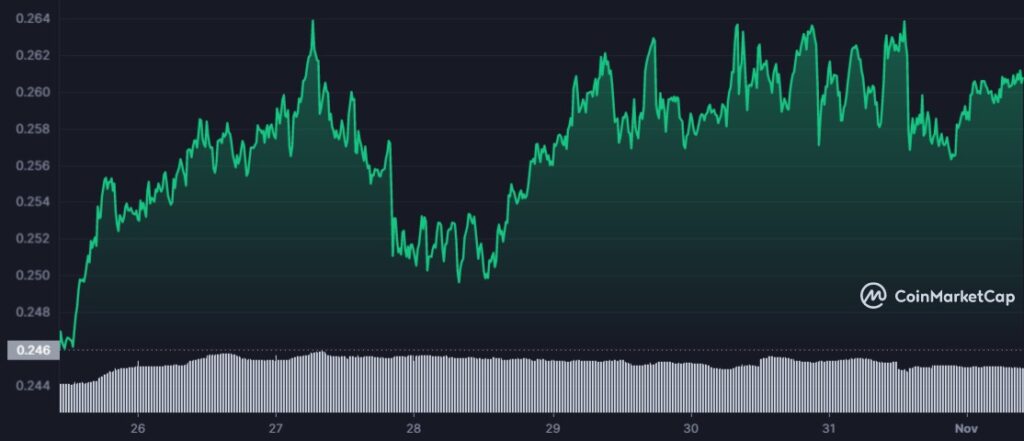 IOTA price chart reflects that it had caught some of the positive sentiment from the overall market conditions which allowed the price level to surge from $0.24 to $0.26. During the end of the past week, the price level was able to develop sustainability above $0.25 which helped it to test the resistance level of $0.26 multiple times.
IOTA has been part of the crypto OGs as its trading started back in June 2017 when it was launched at $0.60. During the bullish market of 2018, it registered an all-time high of $5.50. Since then, it has certainly lost the interest of investors, and the network adoption is not accelerating at a suitable pace.
IOTA Technical Analysis: Possible Bullish Breakout

On the technical chart, IOTA's price faced significant selling pressure since August and is almost down by 25.00% since then. The current positive build-up suggests that it looks like the potential to finally have a breakout above 0.236 FIB level. The price level is able to maintain sustainability above the basis of BB while having temporary support from MA-10. The positive expansion of Bollinger bands also reflects the prevailing bullish sentiment for cryptocurrency. The RSI level is showcasing positive nature for the past month after facing a breakdown in the oversold region. A rising channel pattern can be observed while the current level resides at 55.93.
IOTA: Key Statistics
Resistance: $0.265 and $0.30
Support: $0.24 and $0.22