The complex and intricate domain of non-fungible tokens (NFTs) has recently been buzzing with a remarkable market value of $107.60 million in the previous month, as reported by the renowned analytics platform Statista. It has been projected that by the concluding phase of 2023, this strikingly lucrative sector is anticipated to escalate to an astounding $1.6 billion. However, with the amplification of such a staggering market value, a concomitant rise in the competition among various NFT marketplaces for optimal user penetration is certainly inevitable.
What is LooksRare
LooksRare is a decentralized, community-focused NFT marketplace that actively rewards users for using their service, including traders, token holders, creators, and collectors. The platform was founded by two individuals, who go by the pseudonyms "Zodd" and "Guts," in January 2022, and boasts of a team of 11 members working tirelessly on the development of the project. Their primary objective is to overthrow OpenSea and become the leading platform in the NFT market.
The driving force behind LooksRare's marketplace is its native token, LOOKS. As of the time of writing, it has a 1 billion unit supply, with each token trading at $0.1. The platform's innovative approach to NFTs has made it a desirable option for those seeking community engagement, decentralization, and user incentives.
What Are $LOOKS Used For?
LOOKS is used for the following purposes.
Transactions
One of the most basic utilities of the LOOKS token is to conduct transactions on the platform
Rewards
Another aspect is rewards, as the LOOKS token is used to reward active users and creators by allowing them to earn LOOKS by participating.
Staking
At LooksRare, users have the opportunity to stake their LOOKS tokens on the platform and receive WETH (wrapped ether) and LOOKS at an initial annual percentage rate (APR) of over 700%. However, as the number of stakeholders onboarding increased, the APR gradually decreased.
Stakers can be categorized as either active or passive, based on their participation level. Active stakers are typically token investors who have fully unlocked their LOOKS tokens and are actively staking them on the platform.
On the other hand, passive stakers, such as those who hold treasury, team, or strategic sale tokens, have their LOOKS tokens locked for trading but unlocked for staking. When passive stakers stake their LOOKS, they do not receive additional tokens. Instead, daily rewards generated by the LooksRare platform are calculated and divided between active and passive stakers before being distributed.

The total WETH rewards acquired are calculated by comparing each user's staked LOOKS at each block to the total quantity of LOOKS staked at each block during the 6,500 block period.
Launch of LooksRare V2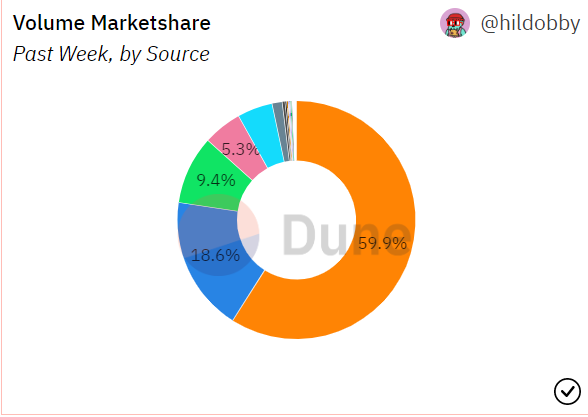 On April 6, 2023, Looksrare, the NFT marketplace, released version two (v2), bringing about significant changes. One of the most significant adjustments in Looksrare v2 is the reduction of the platform's fees by 75%. According to Dune Analytics, Blur, and Opensea traders dominated the NFT market in the last week of April 2023, accounting for 59.9% and 18.6% of the market share, respectively. In terms of traders and volume, Looksrare ranks third, with a market share of 9.4%.
In the previous version of the marketplace, Looksrare charged 2% and incurred high gas costs for its users. However, with Looksrare v2, users can save up to 30% on gas fees compared to Looksrare v1 and up to 50% on gas fees compared to other marketplaces like Blur, thanks to the platform's gas-efficient contracts. Looksrare v2 now supports ETH rather than WETH, which is wrapped in Ethereum, and users can add up to 70 NFTs to their cart when buying in bulk.
Looksrare v2 has been updated to support aggregators using customized recipients, allowing users to purchase an NFT and send it to a different wallet. Sellers can now list their NFTs at token prices instead of ETH prices, allowing them to set prices in US dollars regardless of ETH prices.
While Looksrare v2 gains more user traction, the v1 contracts will continue to be used for some time, according to Looksrare developers. Looksrare v2 was released to compete with Blur, another significant NFT marketplace, and OpenSea's Pro. As previously reported by BitcoinWisdom, OpenSea has introduced a brand-new, cutting-edge, and effective NFT marketplace aggregator called OpenSea Pro, offering users a variety of new features.
Conclusion
In summary, Looksrare V2 offers a solution to the high gas fees plaguing the Ethereum network, making it a promising NFT marketplace. Its innovative approach has propelled it to become one of the top NFT marketplaces. By leveraging scaling technologies, Looksrare V2 has reduced gas fees, creating an affordable and accessible platform for creators and collectors.
As the third-largest NFT marketplace in terms of volume, Looksrare V2 is poised for continued growth and success in the blockchain and digital asset industry. Its user-friendly interface, low fees, and extensive selection of NFTs make it a popular choice for both new and experienced users.
In conclusion, Looksrare V2 is a promising development in the NFT space, and it is worth considering for those looking to buy or sell digital assets. With its unique features and growing user base, Looksrare V2 will continue to be a significant player in the NFT market for the foreseeable future.